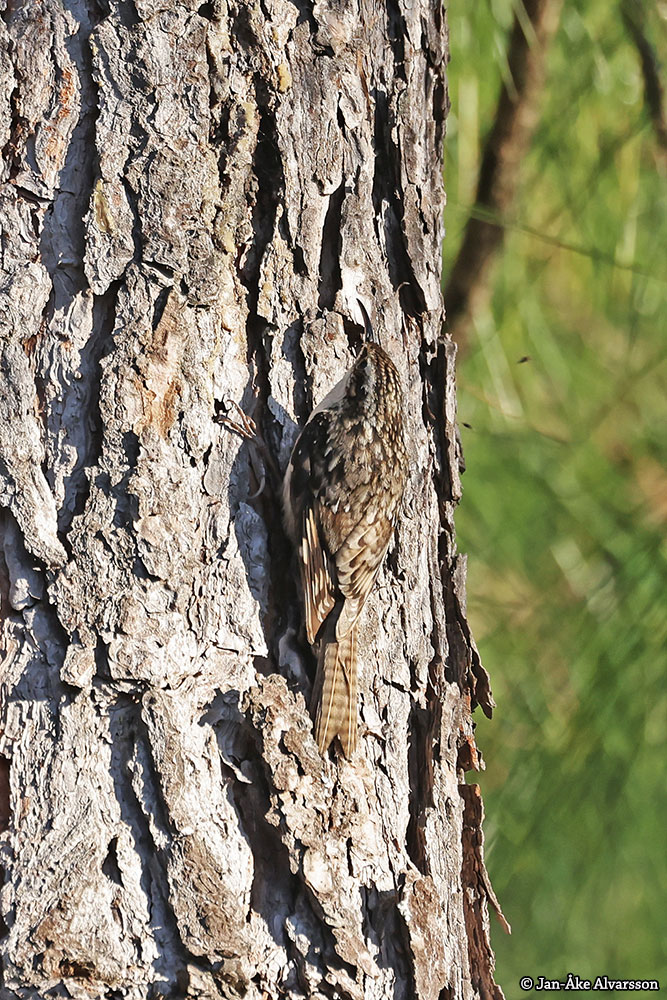 Certhia himalayana
Bar-tailed treecreeper / Himalayaträdkrypare
Like many other treecreepers, this bird has an excellent camouflage pattern. If it sits still, it is difficult to detect - but it reveals itself through its jerky search for insects along the tree trunks. The Bar-tailed treecreeper is about the same size as the Eurasian tree creeper (Certhia familiaris), about 14 cm long, but slightly darker. What gave it its English name is the cross-banded tail which is characteristic. It breeds in coniferous forests and feeds on insects, spiders and other small invertebrates, occasionally supplemented with seeds.
Som många andra trädkrypare har den här fågeln en utmärkt camouflageteckning. Sitter den stilla är den svår att upptäcka - men den avslöjar sig genom sitt ryckiga letande efter insekter längs trädstammarna. Himalayaträdkryparen är ungefär lika stor som vår egen trädkrypare (Certhia familiaris), ungefär 14 cm lång, men något mörkare. Det som gett den dess engelska namn är den tvärbandade stjärten som är karaktäristisk. Den häckar i barrskog och lever på insekter, spindlar och andra små ryggradslösa djur, då och då kompletterat med frön.