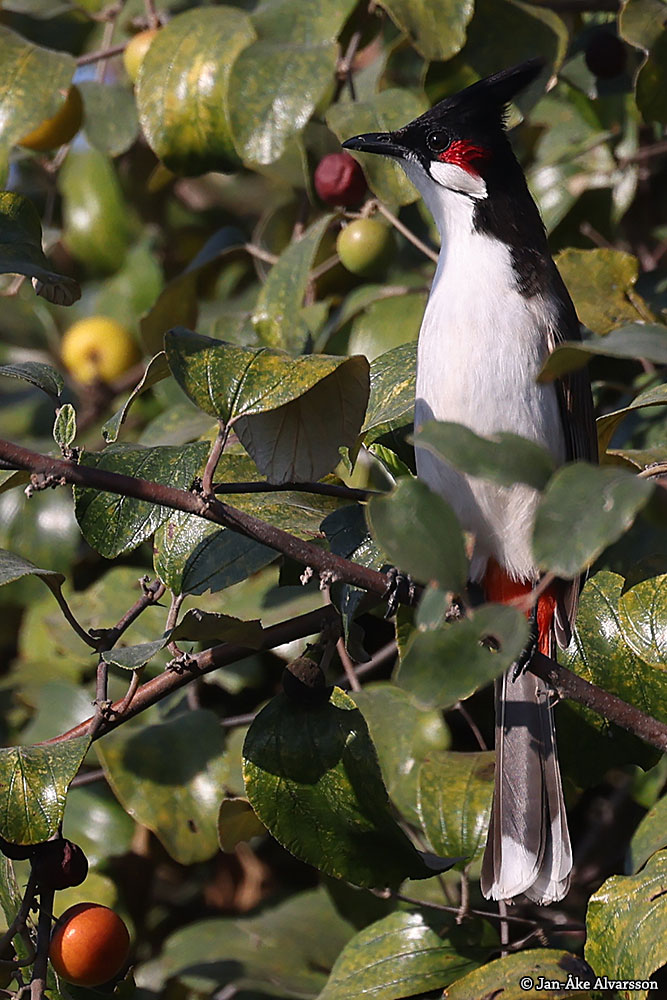 Pycnonotus jocosus
Red-whiskered bulbul / Rödörad bulbyl
This Red-whiskered bulbul stretches and seems to wonder what's going on. This bird is, among other things, known to be able to eat yellow oleander - the extremely poisonous berries of the oleander bush (Cascabela thevetiae) that are toxic to mammals - and are said even to kill a horse. Of course, these birds supplement their diet with other berries, nectar and insects. This Red-whiskered bulbul occurs as a cage bird and escaped (or released) specimens have established themselves in tropical areas worldwide. I myself have photographed Red-whiskered bulbul in a residential area in Los Angeles.
Den här rödörade bulbylen sträcker på sig och tycks undra vad som händer. Den här fågeln är bl.a. känd för att kunna äta "hästbane" - de extremt giftiga bären från oleander-busken (Cascabela thevetiae) - som alltså kan döda till och med en häst. De kompletterar förstås med andra bär, nektar och insekter. Den här rödörade bulbylen förekommer som burfågel och förrymda (eller utsläppta) exemplar har etablerat sig i tropiska områden världen över. Själv har jag fotograferat den inne i ett bostadsområde i Los Angeles.