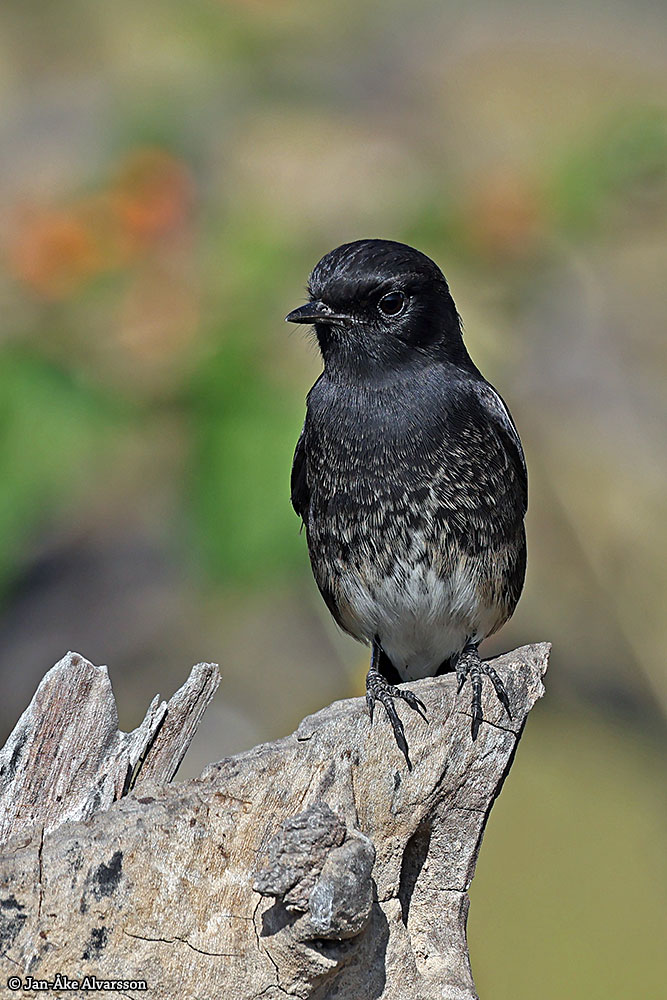 Saxicola caprata
Pied bush-chat / Svart buskskvätta
In shape, this Pied bush-chat resembles the Whinchat (Saxicola rubetra), but in terms of plumage there are no similarities. The male is jet black with a white underbelly and usually a white wing band. On this individual, the transition between black and white is gradual and gives a watered impression. In other males (subspecies or adults?) the black goes further down the rump. The females are brown-grey with a rust-colored upper bill. However, the tail is black like that of the male. Just like this individual, the Pied bush-chat usually perches on a fairly low stump or post and hunts insects on the ground.
Till formen påminner denna svarta buskskvätta om vår vanliga buskskvätta (Saxicola rubetra) men i fråga om fjäderdräkten finns det inte några likheter. Hannen är kolsvart med vit undergump och oftast ett vitt vingband. På den här individen är övergången mellan svart och vitt successiv och ger ett vattrat intryck. Hos andra hannar (underarter eller adulta?) går det svarta längre ner på gumpen. Honorna är brungråa med rostfärgad övergump. Stjärten är dock svart som hos hannen. Just som den här individen sitter den svarta buskskvättan i regel på en ganska låg stubbe eller påle och jagar insekter på marken.