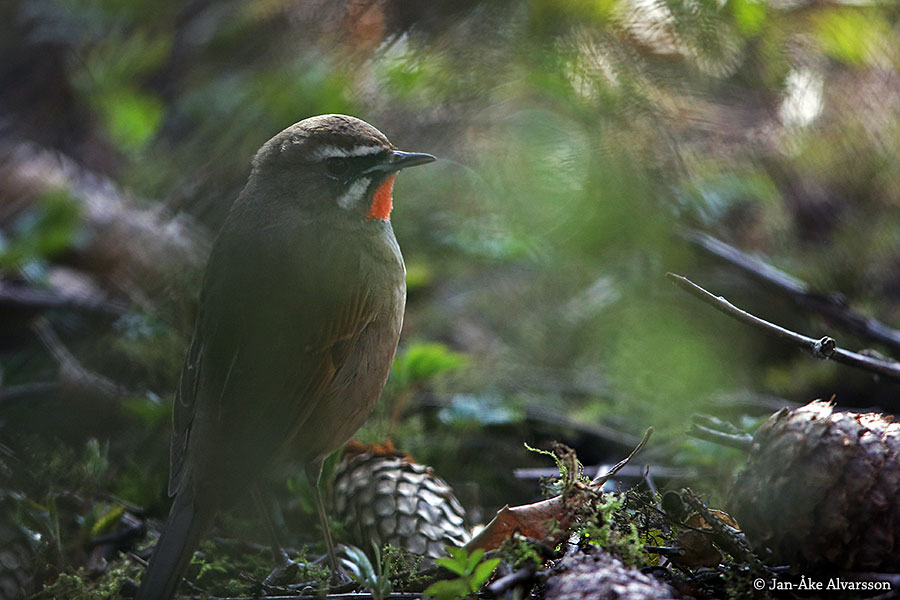 Calliope calliope
Siberian rubythroat / Rubinnäktergal
This is a rare guest in Sweden: a Siberian rubythroat. This is only the second individual that has visited our country - as far as we know. It usually breeds in Siberia and to the east, and overwinters in Southeast Asia. This individual contains a hard-to-beat record (possibly a world record): it had been photographed at least 1,646 times in January 2022 (Vår Fågelvärld Nr 1 2022, p. 7). And then only the publications on Artportalen count. Photographing an already over-photographed individual produces mixed feelings. But then I chose to - apart from enjoying the close contact with the bird for a good while (it was really close) - try to give my own image of this bird: somewhat reclulsive, foraging under a large spruce and in mixed light.
Detta är en sällsynt gäst i Sverige: rubinnäktergal. Detta är är blott andra individen som gästat vårt land så långt vi vet. Den häckar vanligtvis i Sibirien och österut och övervintrar i Sydostasien. Den här individen innehåller ett svårslaget rekord (möjligen världsrekord): den hade i januari fotograferats minst 1.646 gånger (Vår Fågelvärld Nr 1 2022, s. 7). Och då är det endast publiceringarna på Artportalen som räknas. Att fotografera en redan överfotograferad individ känns därför dubbelt. Men då valde jag att - förutom att njuta av närkontakten under en bra stund - försöka ge min egen bild av fågeln: enslig, litet undanskymd, födosökande under en stor gran och i blandat ljus.