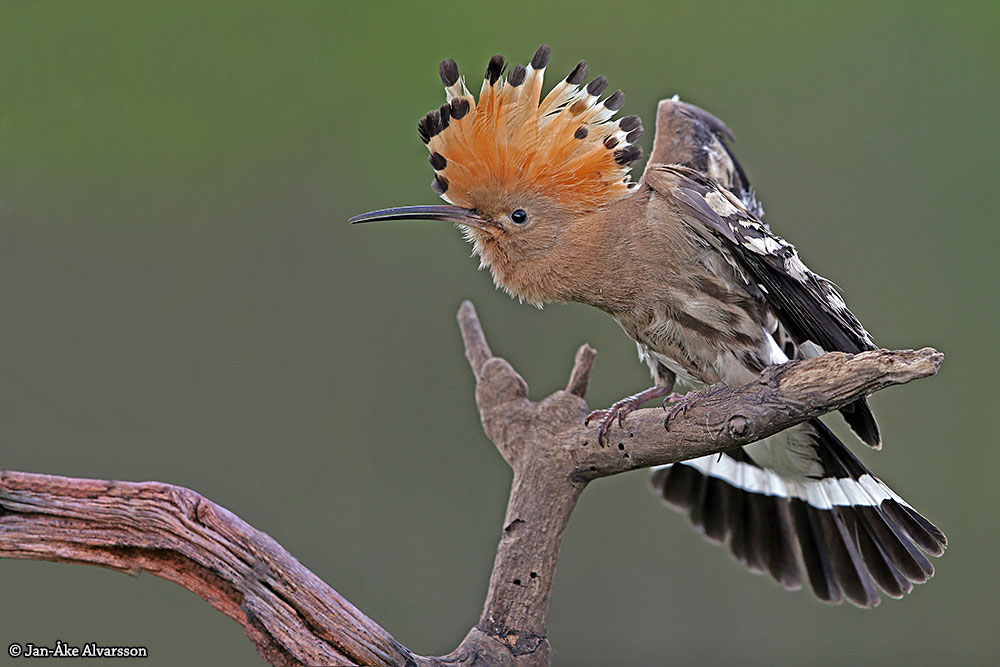 Upupa epops
Eurasian hoopoe / Härfågel
Between May 8 and 14 2022, I was on a bird trip to Hungary with BirdsafariSweden. The idea was to use the hides built by Istvan Bartol and his staff. In and around the Kiskunsagi National Park, an hour and a half southeast of Budapest, bordering on the vast Hungarian steppe, he has built a dozen different hides from which to photograph the local avifauna up close. The hiding places vary from temporarily set up tent hides to advanced tower hides, all located near a species' potential nesting site. We were seven Swedes who took turns in using the various hides. The first day, my colleague Bengt and I ended up in a hide next to a hoopoe nest and got a unique chance to follow a hoopoe couple in feeding, grooming and flight. This individual stretches - and unfolds the crest - after having worked hard in feeding the chicks for a long time.
Mellan den 8 och 14 maj 2022 var jag på fågelresa till Ungern med BirdsafariSweden. Idén var att utnyttja de gömslen som byggts upp av Istvan Bartol och hans medarbetare där. I och runt nationalparken Kiskunsagi, en och en halv timmas resa sydost om Budapest, gränsande till den vida ungerska stäppen, har han byggt upp ett dussintal olika gömslen varifrån man kan fotografera den lokala avifaunan på nära håll. Gömslena varierar från tillfälligt uppsatta tält-gömslen till avancerade torn, alla placerade i närheten av någon arts potentiella häckningsplats. Vi var sju svenskar som byttes om att sitta i de olika gömslena. Jag och min kollega Bengt hamnade första dagen i ett gömsle invid ett härfågelsbo och fick en unik chans att följa ett par i matning, putsning och flykt. Den här individen sträcker på sig - och fäller upp kammen - efter att ha satsat på matning en längre stund.