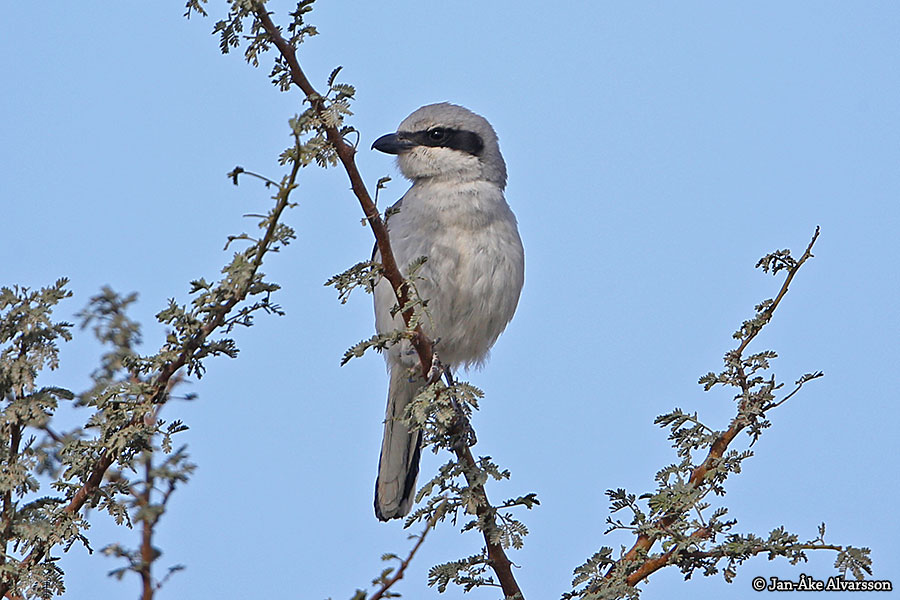 Lanius excubitor
[Northern] Great grey shrike / Varfågel
The [Northern] Great grey shrike nests mainly in the northern part of Scandinavia and Russia. In winter, it appears further south, now and then in my hometown Uppsala. Some birds are resident birds, others migrate. This individual perches in a classic hunting position and looks for insects and small mammals. Its Latin name "lanius" means 'butcher' and refers to the bird's habit of hoarding food by transfixing larger insects and smaller mammals, such as mice, on thorns. The air-dried animals can then be eaten when supply is scarce, for example during spring and fall.
Varfågeln häckar huvudsakligen i norra delen av Sverige. Vintertid dyker den upp längre söderut, nu och då i min hemstad Uppsala. Vissa fåglar är stannfåglar, andra migrerar. Den här individen sitter i klassisk jaktposition och spanar efter insekter och små däggdjur. Dess latinska namn "lanius" betyder 'slaktare' och syftar på fågelns vana att hamstra mat genom att spetsa större insekter och mindre däggdjur, som möss, på taggar. De lufttorkade djuren kan sedan ätas när tillgången tryter, till exempel under vår och höst.