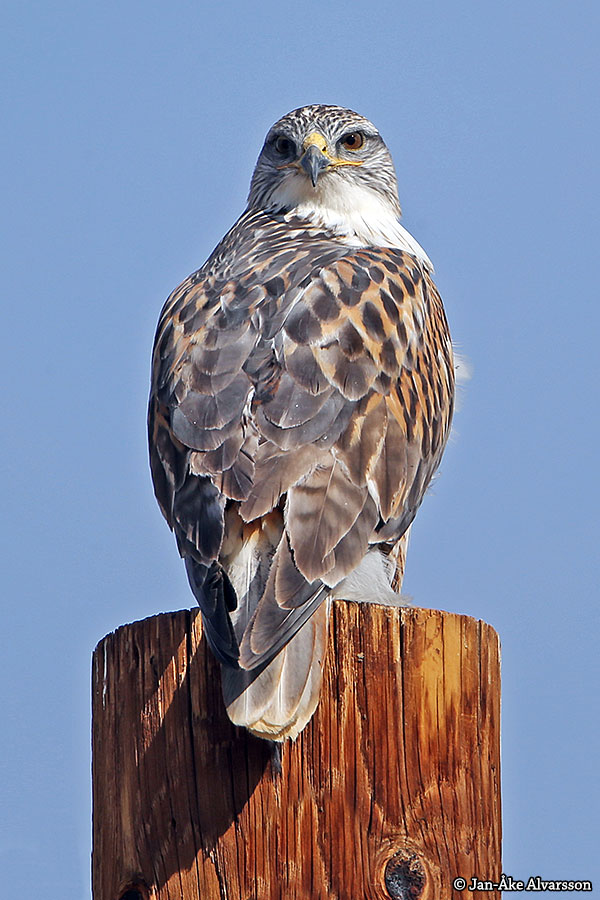 Buteo regalis
Ferruginous hawk / Kungsvråk
The Ferruginous hawk is the largest Buteo (buzzard) species with a body length of 51–69 cm. It thrives in open landscapes, dry grasslands, semi-deserts and deserts. Unlike other buzzards, it often sits on the ground, for example outside a rodent's burrow waiting for the prey to appear. However, hunting from a high position, as in this picture, a pole, is the most common strategy. The prey includes, in addition to rodents, birds, reptiles and even larger insects. This species occurs in almost all of western North America (from southern Canada to central Mexico). The first part of the English name "Ferruginous hawk" comes from the Latin word for 'rust' and alludes to the Ferruginous hawk's rust-colored wings.
Kungsvråken är den största Buteo-arten med en kroppslängd på 51–69 cm (alltså närmare 10 cm längre än vår ormvråk). Den trivs i öppna landskap, torra gräsmarker, halvöknaroch öknar. Till skillnad från andra vråkar sitter den ofta på marken, till exempel utanför en gnagares håla. Att jaga från en hög position, som på den här bilden en stolpe, är dock det vanligaste. Bytena inkluderar, förutom gnagare också fåglar, reptiler och till och med större insekter. Arten förekommer i nästa hela västra Nordamerika (från södra Kanada till centrala Mexico). Den första delen i det engelska namnet "Ferruginous hawk" kommer från latinets ord för 'rost' och anspelar på vråkens rostfärgade vingar.