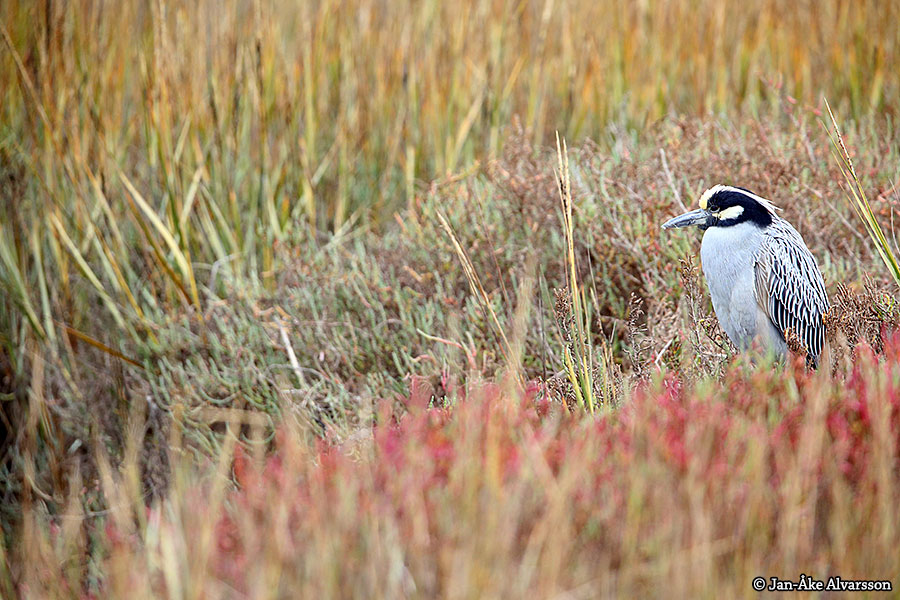 Nyctanassa violacea
Yellow-crowned night heron / Gulkronad natthäger
In one of the wetlands near the Pacific Ocean (Tijuana Estuary), we saw three Yellow-crowned night herons. This one seems to have taken a nap before the night's hunt. Its food consists mainly of various crustaceans, especially crabs. The Yellow-crowned night heron occurs from the southeastern United States down to the coasts of northern South America. Those that breed in more northern areas spend the winter in the southernmost United States, e.g. in Florida and southern California. Interestingly enough, both the length of the bill and the breeding season vary with the crustaceans found at the breeding site!
I en av våtmarkerna nära Stilla Havet (Tijuana Estuary) såg vi tre gulkronade natthägrar. Den här vilade upp sig inför nattens jakt. Födan består huvudsakligen av olika kräftdjur, särskilt då krabbor. Den gulkronade natthägern förekommer från sydöstra USA ner till norra Sydamerikas kuster. De som häckar i nordligare trakter övervintrar i sydligaste USA, t.ex. i Florida och södra Kalifornien. Såväl näbblängden som häckningstiden varierar intressant nog med de kräftdjur som återfinns på häckningsorten!