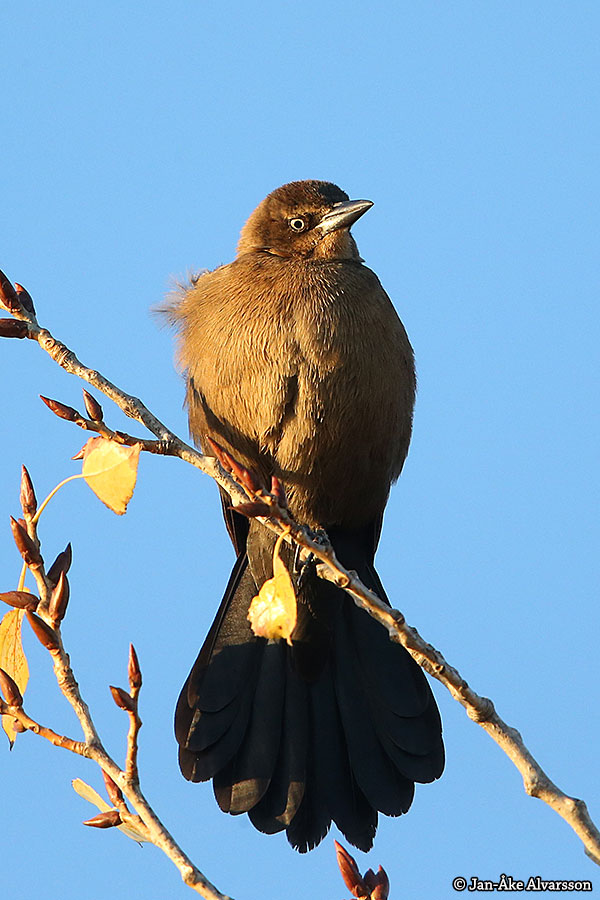 Quiscalus mexicanus
Great-tailed [Mexican] grackle / Mexikobåtstjärt
We were on our way home from a long day of bird watching. The sun was setting and provided a warm evening light. Then a flock of grackles came and perched in a tree nearby. When I moved to get the light right, this female grackle showed off what has given it its English trivial name: "great-tailed". This bird is strange in several ways. In addition to the long and wide tail, it is strikingly intelligent. It is medium-sized (38-46 cm) and often confused with crows - which it is not related to. (The male is more often photographed than the female because it is shiny black.) In modern times, from the core area of Mexico, it has succeeded in colonizing the entire southern United States. It is claimed that since 1880 it has expanded its territory by an incredible 5,500%! The reason is probably its smartness and varied diet - and human prevalence. It is an unafraid bird and it has has acquired several new feeding strategies that it may use in human settlements - e.g. to pick dead insects from car grilles!
Vi var på väg hem från en lång dags fågelskådning. Solen var på väg ner och gav ett varmt kvällsljus. Då kom en flock båtstjärtar och satte sig i ett träd i närheten. När jag förflyttat mig för att få ljuset rätt visade denna båtstjärtshona upp det som gett den dess engelska namn: "storstjärtad" ('great-tailed'). Denna fågel är märklig på flera sätt. Förutom den långa och breda stjärten är den slående intelligent. Den är medelstor (38-46 cm) och ofta förväxlad med kråkfåglar - som den inte är släkt med. (Hannen är oftare fotograferad än honan eftersom den är glänsande svart.) I modern tid har den, från kärnområdet i Mexico, lyckats att kolonisera hela södra USA. Det påstås att den sedan 1880 utökat sitt territorium med ofattbara 5.500%! Orsaken är förmodligen dess smartness och varierade diet - och människans utbredning. Den har skaffat sig flera nya strategier - t.ex. att plocka döda insekter från bilgrillar!