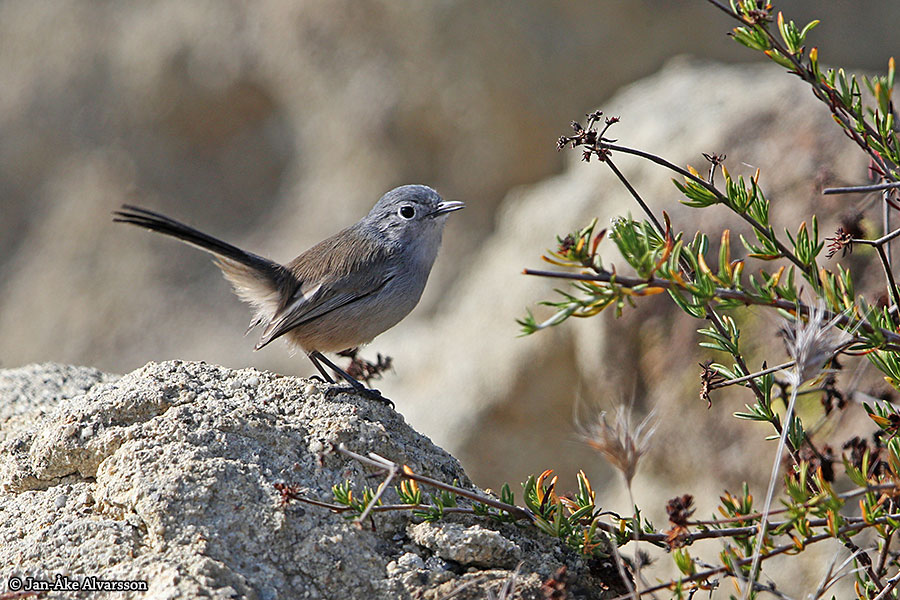 Polioptila californica
California gnatcatcher / Californiamyggsnappare
This little gnatcatcher seems to be looking at us pleadingly ... Maybe it's thinking about everything that invades its habitat? This particular species is in any case the reason why a small reserve has been set aside right here, between the University of California at Irving and a major highway. It is a small species (10 cm) that lives in coastal sagebrush areas in Southern California and Baja California. However, the lack of sagebrush is becoming increasingly apparent as humans build more and more houses on the coast of California. Conservationists therefore try to set aside areas like this to ensure the species' survival. In California in particular, it has been considered threatened, with the situation in Mexico being somewhat brighter. Watching a pair of California gnatcatchers jumping around, spreading their tails to chase out insects, and catching them is therefore a special experience!
Den här lilla myggsnapparen tycks titta bedjande på oss... Kanske tänker den på allt som invaderar dess habitat? Just den här arten är i alla fall orsaken till att ett litet reservat har avsatts just här, mellan University of California at Irving och en stor motorväg. Det är en liten art (10 cm) som lever i kustnära malörtssnår i södra Kalifornien och Baja California. Bristen på malörtssnår blir dock allt tydligare eftersom människan bebygger mer och mer av den kaliforniska kusten. Naturvårdare försöker därför avsätta områden som detta för att säkra artens överlevnad. Just i Kaliforninen har den betraktats som hotad, men situationen i Mexico är ljusare. Att få betrakta ett par Californiamyggsnappare hoppa, spärra ut stjärten för att tvinga fram insekter, och fånga dem är därför en speciell upplevelse.