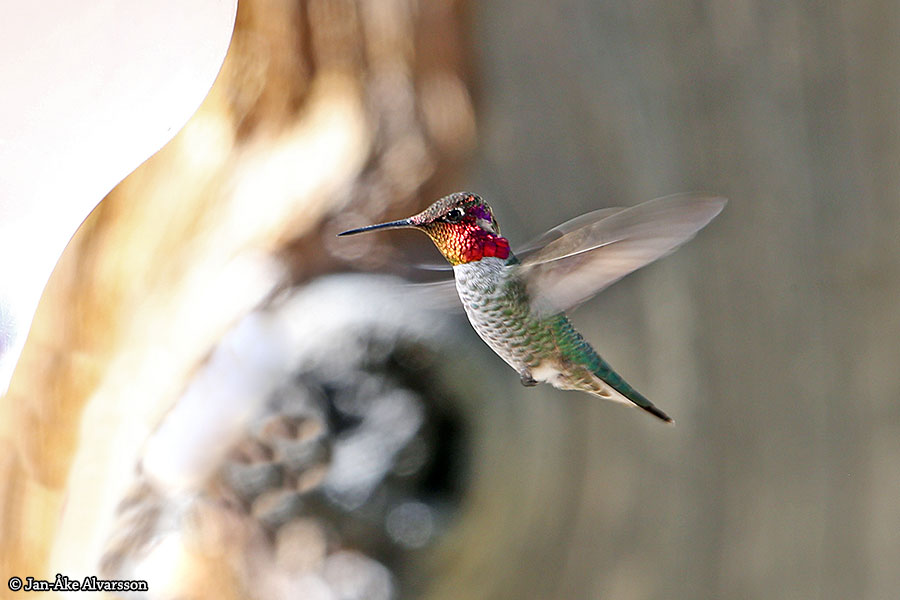 Calypte anna
Anna's hummingbird / Annas kolibri
In California, you can observe 14 different species of hummingbirds. But most of them are migrating. Only a few species are found year-round in the southern part of the state. One of these is the shimmering, beautiful "Anna's hummingbird". It is a small hummingbird, about four inches (10 cm) long which can weigh as little as 0.1 to 0.2 oz . The species is the only one with a red crown in North America and therefore reasonably easy to identify. It has a red, iridescent throat which changes the color with the angle of the light. Anna's hummingbird subsists mainly on nectar but supplements it with insects, arthropods caught in flight, and sap from trees. During flight, it can generate an electrostatic charge that causes pollen to get stuck on the bill and head. When it then flies to the next flower, it helps with pollination. Unusually (for hummingbirds), the male sings during the courtship of the female. The nest is only 4-5 cm large, well camouflaged with lichens that are held together with cobwebs. The species traditionally nested only here, in Southern California and in Baja California, Mexico, but has expanded north along the West Coast since the 1960s, possibly with the help of humans through recently introduced trees and plants and access to nectar feeders in gardens.
I Kalifornien kan man iaktta 14 olika arter kolibris. Men de flesta är på genomresa. Endast ett par arter återfinns året om i södra delen av staten. En av dessa är den skimrande vackra "Annas kolibri". Det är en liten kolibri, runt 10 cm lång som kan väga så litet som 2,8 gram (och upp till 5,7 gram). Arten är den enda med röd hjässa i Nordamerika och därför rimligt lätt att identifiera. Den har en röd haklapp med irisering (regnbågsskimmer) som gör att färgen skiftar med ljusets vinkel. Annas kolibri lever huvudsakligen på nektar men kompletterar med insekter, spindeldjur och sav från träd. Under flygningen kan den generera en elektrostatisk dragningskraft som gör att pollen fastnar på näbb och huvud. När den sedan flyger till nästa blomma hjälper den till med pollineringen. Ovanligt nog (för kolibris) sjunger hanen under uppvaktningen av honan. Boet är bara 4-5 cm stort, väl kamouflerat med lavar som hålles samman med spindelväv. Arten häckade traditionellt bara här, i södra Kalifornien och i Baja California i Mexico, men har expanderat norrut sedan 1960-talet, möjligen med hjälp av människan genom nyetablerade träd och växter och tillgång till automater med sockerlösning i trädgårdar.