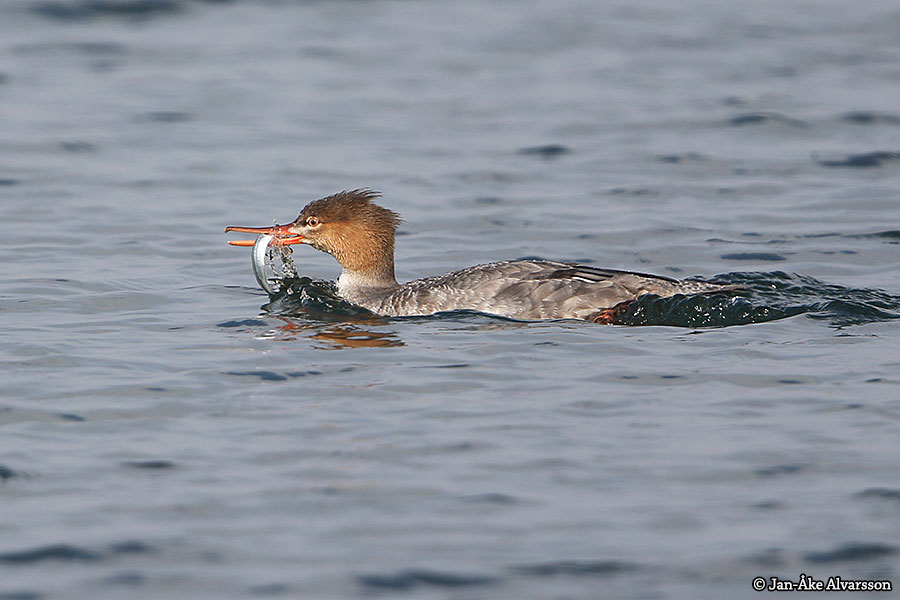 Mergus serrator
Red-breasted merganser / Småskrake
Suddenly, a female Red-breasted merganser appeared with a long, narrow fish, held in the sawtooth bill. By the way, the latter has given it the Latin name 'serrator' which means "sawyer" (or with saw teeth). The Red-breasted merganser occurs in almost the entire circumpolar area, from Alaska to northern Scandinavia and northern Asia. During winter, most move south, like this female. The male differs from the female by a longer nape of the neck and a greenish, dark head and ditto neck.
Plötsligt , dök det upp en småskrakehona med en långsmal fisk, fast hållen i den sågtandade näbben. Den senare har förresten gett den det latinska namnet 'serrator' som betyder 'sågare'. Småskraken förekommer i nästan hela det cirkumpolära området, från Alaska till norra Skandinavien och norra Asien. Under vinter flyttar merparten söderut, som denna hona. Hanen skiljer sig från honan genom en längre nacktofs och ett grönaktigt, mörkt huvud och dito hals.