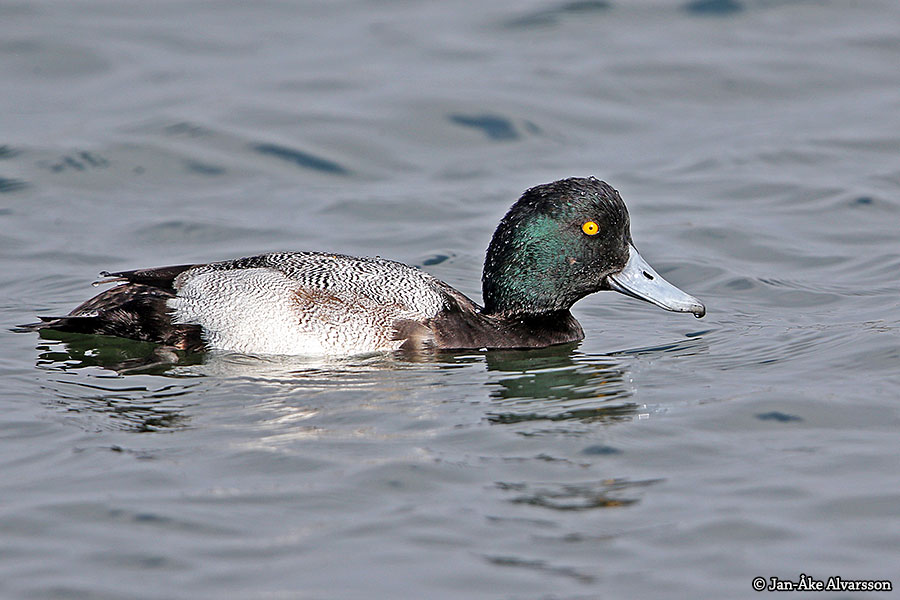 Aythya marila
Greater scaup [Bluebill] / Bergand
Greater scaup is a widespread species. It breeds in the sub-arctic region and on the northern border of the taiga, from Alaska, northern Canada, northern Scandinavia and Siberia. In winter it migrates south, e.g. to California. It is a diving duck with a varied diet, consisting of both vegetables and insects and mollusks. Unfortunately, it has decreased sharply in number in recent times, which is noticeable e.g. in the Baltic Sea. This Greater scaup was swimming with a number of other duck species "on winter holidays" in a lagoon right next to the Pacific Ocean.
Bergand är en vitt spridd andart. Den häckar i det subartiska området och i tajgans nordgräns, från Alaska, norra Kanada, norra Skandinavien och Sibirien. Vintertid migrerar den söderut, t.ex. till Kalifornien. Det är en dykand med varierad diet, bestående av såväl vegetabilier som insekter och mollusker. Den har dessvärre minskat starkt i antal på senare tid, vilket märks bland annat i Östersjön. Den här berganden simmade tillsammans med en rad andra "semesterfirande" änder i en lagun alldeles intill Stilla Oceanen.