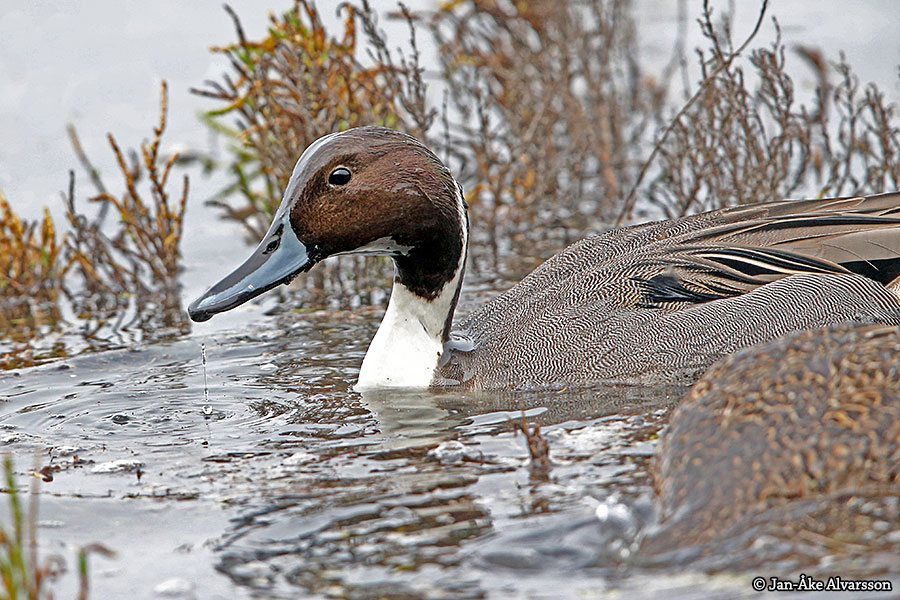 Anas acuta
Northern pintail / Stjärtand
The Northern pintail is a widespread species that occurs both in the USA and Russia as well as in Sweden - and, despite its large distribution, without subspecies. The Northern pintail has decreased sharply in number in many places, especially in the core area of Russia, due to toxins, such as lead, hunting, or various diseases. However, due to its widespread distribution, it is not considered endangered. The Latin 'anas' simply means 'duck' and 'acuta' ('pointed' or 'sharp') refers to the male's pointed tail. This male has just come out of the water after grazing plant parts on the bottom, near the shore.
Stjärtanden är en vida spridd art som förekommer såväl i USA som i Ryssland och Sverige. Trots sin vida utbredning förekommer det inga underarter. Stjärtanden har minskat mycket i antal på många håll, speciellt i kärnområdet i Ryssland, på grund av gifter, som bly, jakt och olika fågelsjukdomar. Trots detta, men tack vare sin utbredning, anses den inte som hotad. Det latinska namnet 'anas' betyder helt enkelt 'and' och 'acuta' ('spetsig') anspelar på hannens långa, spetsiga stjärt (som inte syns på bilden). Den här hannen har precis dykt upp ur vattnet efter att ha betat växtdelar på bottnen nära stranden.