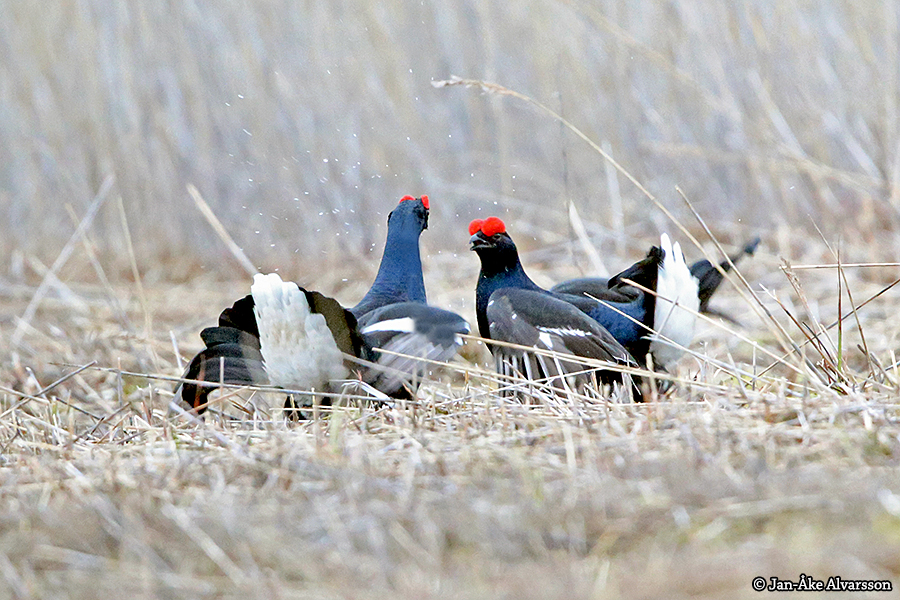 Lyrurus tetrix
Black grouse [Blackgame,Blackcock] / Orre
The fight is underway. After showing off their strength by making quick rushes back and forth, a strong rooster challenges another to single combat. This is done to secure the strict ranking of the cocks. The fight starts with showing off, engaging in a sham battle, but often ends in a regular combat. The battle can be violent and the sharp claws can cause the feathers of the opponent to start whirling.
Kampen är i gång. Efter att ha visat upp sin styrka genom att göra snabba rusningar fram och tillbaka, utmanar en stark tupp en annan på envig. Detta görs för att säkra rangordningen tupparna emellan. Det börjar med uppvisning, skenfäktning men slutar ofta i regelrätt råkurr. Slagsmålen kan bli våldsamma och de vassa klorna kan få fjädrarna att ryka på motståndaren.