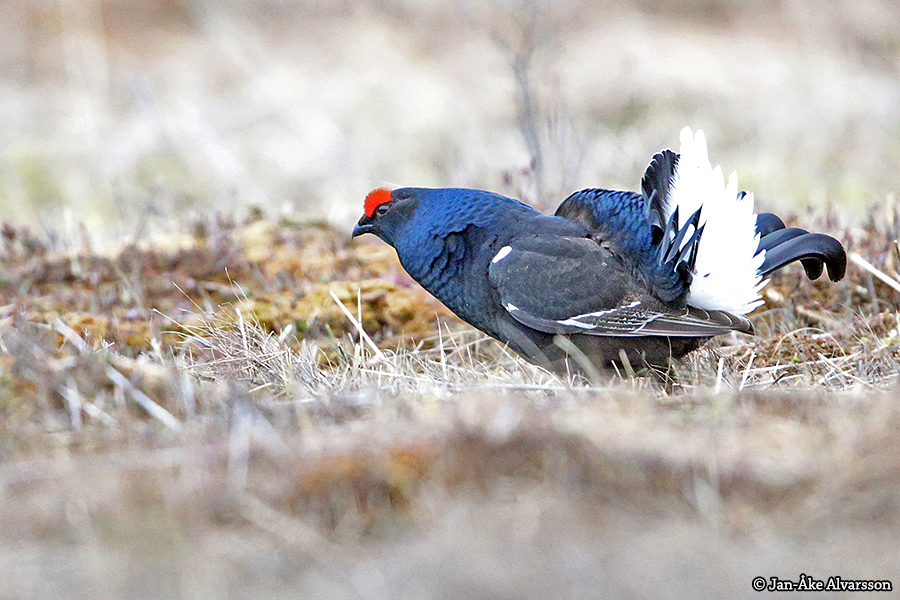 Lyrurus tetrix
Black grouse [Blackgame,Blackcock] / Orre
Early morning in central Sweden. The male Black grouses are getting ready for their special lek, the "mating tournament" or courtship ritual. The white tail feathers (the under tail coverts) fold out and form a fluffy rosette or fan with the darker tail feathers as an elegant backdrop. The red parts on the head grow with age, from a red spot on young roosters to an almost overgrown crown on the oldest cocks. The crouching position means preparation for battle. The females come to visit every now and then, but the males fight intensively every morning from mid-March to early May on who should get the favor to mate with the females.
Tidig morgon i mellersta Sverige. Orrhannarna gör sig redo för sitt speciella tornerspel. Stjärten (de undre stjärttäckarna) fälls ut och de vita fjädrarna bildar en fluffig rosett eller spegel med de mörkare stjärtfjädrarna som elegant bakgrund. De röda partierna på huvudet växer med ålder, från en röd fläck på ungtuppar till en nästan sammanvuxen krona på de äldsta tupparna. Den hukande positionen betyder förberedelse för strid. Honorna kommer på besök då och då, men hannarna kämpar oberoende av detta intensivt varje morgon från mitten av mars till början av maj om vem som skall få ynnesten att para sig med honorna.