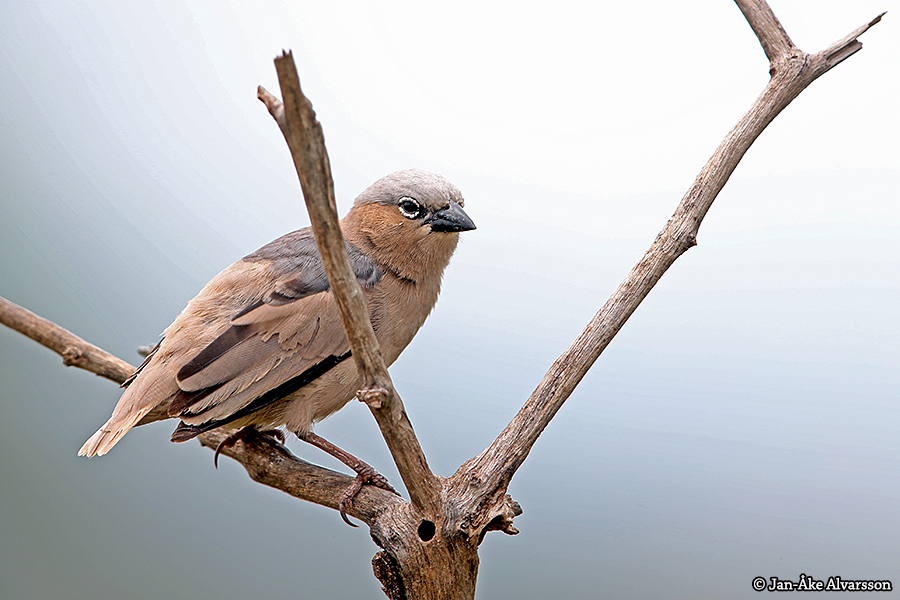 Pseudonigrita arnaudi
Gray-headed social-weaver / Gråkronad vävare
The individual in this picture shows two distinct characteristics of Gray-headed social-weavers: the grey head and the white eye ring. But the distinctly grey back is typical only of this southwestern subspecies: 'dorsalis'. This is a monogamous, colonial species. A "clan" occupies and defends an entire tree and builds its nests hanging from thin branches. The nests have two entrances from below, all to protect the birds against predators.
Individen på den här bilden uppvisar två tydliga karaktäristika för gråkronad vävare: den gråa hjässan och den vita ögonringen. Men den tydligt gråa ryggen är bara typisk för den här sydvästliga underarten: 'dorsalis'. Det här är en monogam, kolonibyggande art. En "klan" ockuperar och försvarar ett helt träd och bygger sina bon hängandes från tunna grenar. Bona har två ingångar nedifrån, allt för att skydda sig mot predatorer.