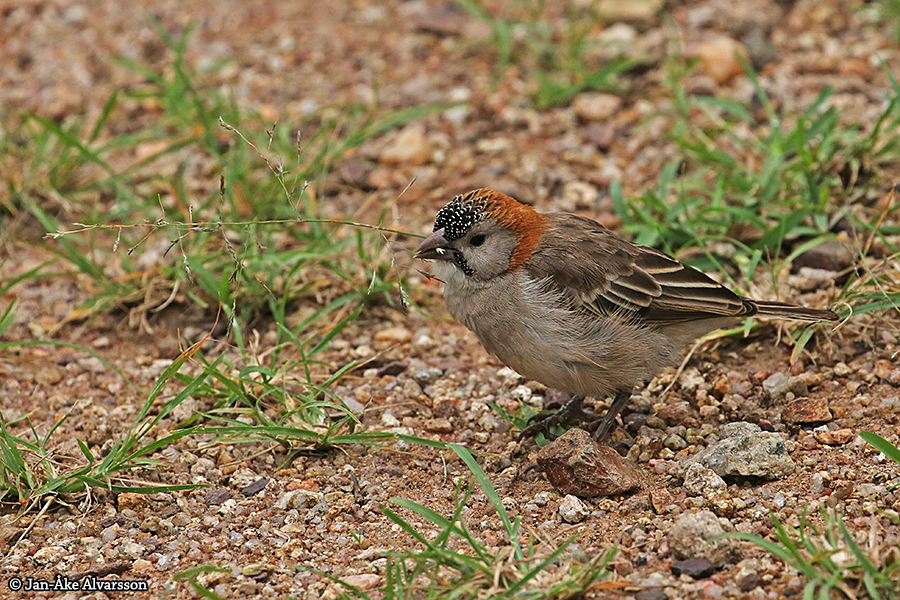 Sporopipes frontalis
Speckle-fronted weaver / Rostnackad vävare
The English and Swedish names for this bird really complement each other. In English, the very special, black, white-spotted forehead and in Swedish the rust-colored neck are emphasized - the two distinctive characteristics that this species exhibits! Just as the picture shows, it usually forages on the ground and the main part of the diet consists of grass seeds, supplemented with some insects. This photo was taken at a resting place in the Serengeti.
De engelska och den svenska beteckningarna på denna fågel kompletterar verkligen varandra. På engelska betonas den speciella, svarta, vitprickiga pannan och på svenska den rostfärgade nacken - de två utmärkande karaktäristika som denna art uppvisar! Precis som bilden visar, så söker den oftast föda på marken och huvuddelen av dieten består av gräsfrön, kompletterad med en del insekter. Den här bilden togs på ett rastställe i Serengeti.