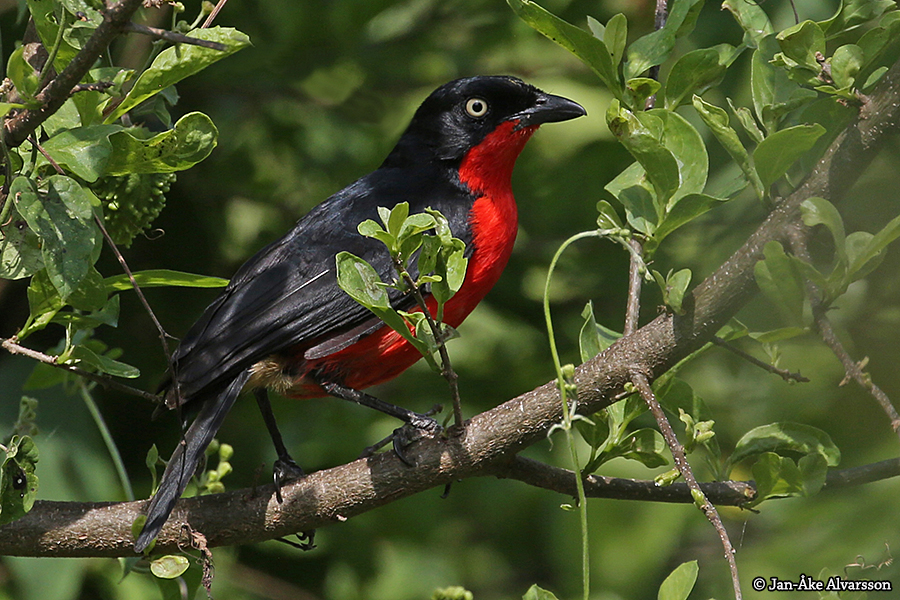 Laniarius erythrogaster
Black-headed gonolek / Scharlakansbusktörnskata
At the southern tip of Lake Victoria, where we stayed for two nights, this shy bird, the Black-headed gonolek, was constantly present with its whistling sounds. To hear it was one thing, however, to see it and photograph it was another. It hid very skilfully in the crowns of the trees. But this was one of the species that was on my special priority list, so I spent quite a lot of time trying to photograph it. This ended up being the best picture ...
Vid sydspetsen av Lake Victoria, där vi bodde två nätter, vad denna skygga fågel ständigt närvarande med sina flöjtande läten. Att höra den var en sak, att se och fotografera den var en annan. Den dolde sig nämligen mycket skickligt i trädkronorna. Men det här var en av de arter som stod på min speciella prioritetslista så jag ägnade en hel del tid åt att försöka fotografera den. Det här blev till slut den bästa bilden...