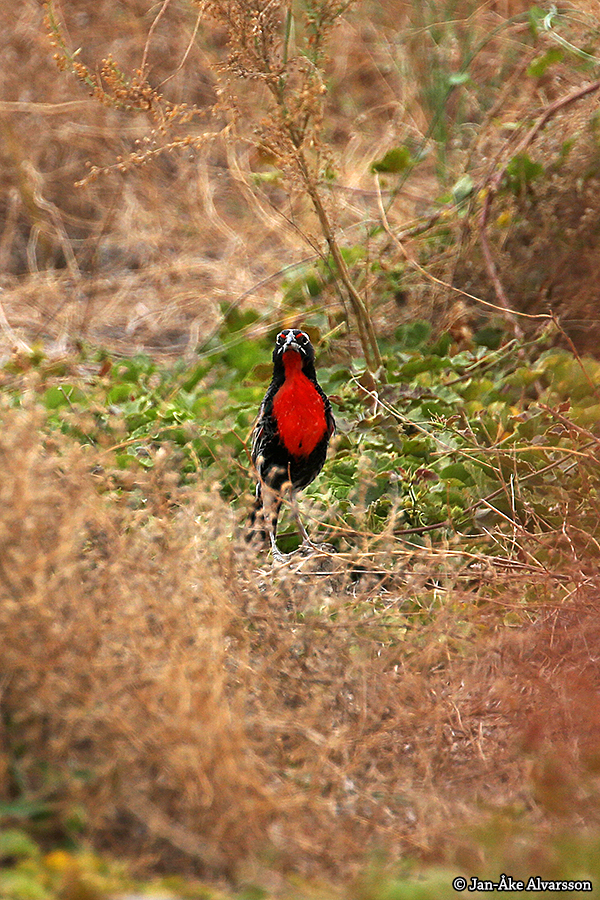 Sturnella bellicosa
Peruvian meadowlark, Peruansk ängstrupial
This is a Peruvian meadowlark. It is an icterid, belonging to the Icteridae family - another large bird family, with around 100 species, which only occurs in North and South America. These species are small and medium-sized birds with plumage in strong colors - often framed in black. This meadowlark appeared when we walked along a path near Morropón. In a typical way, it stretches its neck to survey the area better. This species is found only along the coast of Ecuador, Peru and northern Chile.
Detta är en peruansk ängstrupial. Trupialerna (Icteridae) är ytterligare en stor fågelfamilj, med runt 100 arter, som endast förekommer i Nord- och Sydamerika. De är små och medelstora fåglar med fjäderdräkt i starka färger - ofta inramade i svart. Den här ängstrupialen dök upp när vi gick längs en stig i närheten av Morropón. På typiskt manér sträcker den på sig för att överblicka området bättre. Arten återfinns endast längs kusten i Ecuador, Peru och norra Chile.