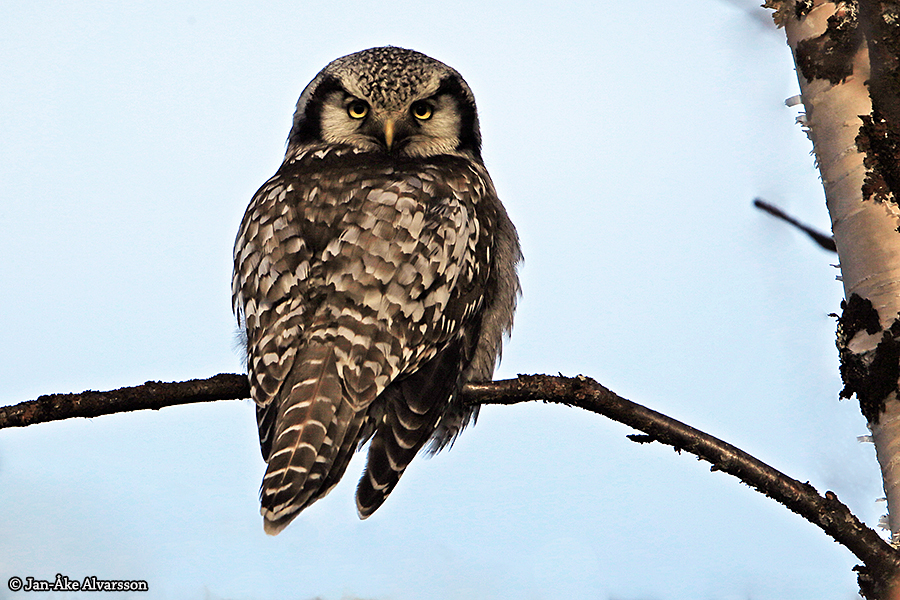 Surnia ulula
Northern hawk-owl / Hökuggla
Just outside my brother's house in Hemavan, in a small birch grove (with the coniferous forest not too far away), this Northern hawk-owl perched on a branch, resting. This species is partly day-active and perches quite openly between hunting tours. In Sweden it breeds mainly in the northern part ('Norrland') but it may be seen further south during fall and winter. Like many other owls, it subsists mainly on rodents and other small animals.
Alldeles utanför min brors hus i Hemavan, i en liten björkdunge (med barrskogen inte alltför långt borta) satt denna hökuggla och tog igen sig. Den är delvis dagaktiv och kan sätta sig såhär synligt mellan jaktturerna. I Sverige häckar den främst i Norrland men kan ses längre söderut under höst och vinter. Den lever som så många andra ugglor främst på gnagare och andra smådjur.