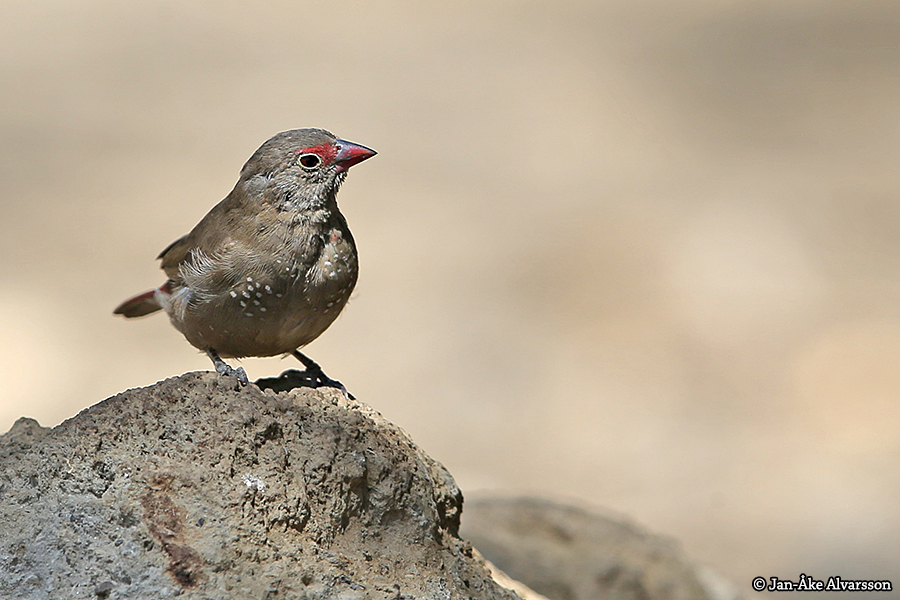 Lagonosticta senegala
Red-billed [Senegal] firefinch / Rödnäbbad amarant
The Red-billed firefinch is an estrildid finch, widely spread and common in Africa. It usually thrives on open grasslands with many seed-bearing plants, but also occurs close to human settlements. The population of Africa is divided into six sub-species; this bird in Langano probably belongs to the most common in central Ethiopia: Lagonosticta senegala brunniceps. The wide spread means that the species is referred to as 'Not globally threatened.' The bird in the picture is a female - and thus clearly different in appearance from the male (on the next picture). The female is greenish brown with a light eye ring, pearl-like spots on the breast, red patces in front of the eyes and a reddish bill. The Red-billed firefinch builds its large nest of dry grass with an entrance from the side.
Den rödnäbbade amaranten är en i Afrika mycket vitt spridd och vanlig astrild. Den trivs vanligtvis på öppna grässlätter med många fröbärande växter, men förekommer även nära mänskliga bosättningar. Populationen i Afrika delas in i sex underater; den här fågeln i Langano tillhör förmodligen den i centrala Etiopien vanligaste: Lagonosticta senegala brunniceps. Den vida utbredningen gör att arten betecknas som 'livskraftig'. Fågeln på bilden är en hona - och skiljer sig därmed tydligt från hannen (på nästa bild). Honan är grönbrun till färgen med en ljus ögonring, pärlliknande fläckar på bröstet, röda fläckar framför ögonen och röd näbb. Hon bygger sitt bo av torrt gräs med ingång från sidan.