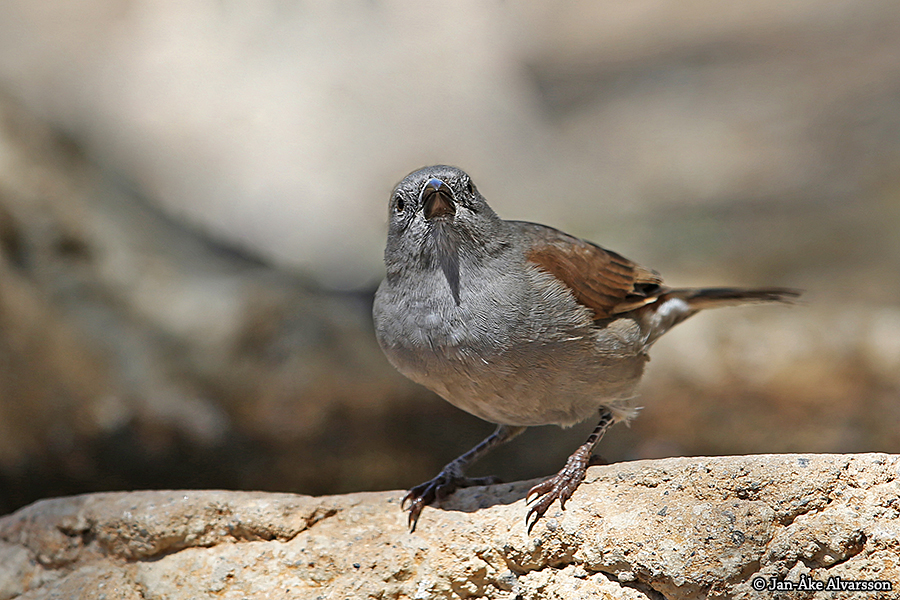 Passer swainsonii
Swainson's sparrow / Swainsonsparv
In Ethiopia and Eritrea, this Passeridae finch is quite common on altitudes over 1,200 meters. In some places, it replaces the House sparrow as "the village bird", i.e. living near human settlements. Otherwise, it occurs in a variety of biotopes, wetlands, open forests, savanna or bushy grasslands. It has been named after William Swainson, a British 19th century zoologist who studied and described a number of bird species. As their close relatives, the Swainson's sparrow is a seed eaters, but complements its diet with some insects. The nest is built of grass and feathers and is placed wherever there is a reasonable platform, a fork of a branch, a hole in a house wall or an old sparrow's nest. It lays 3-6 white eggs with brown and gray spots. Outside the breeding season, which occurs during Northern Hemisphere summer, Swainson's sparrows often gather in large flocks that may become a threat to agriculture or gardening. This sparrow was photographed at a water hole in Langano, quenching its thirst.
I Etiopien och Eritrea är den här sparvfinken ganska vanligt på altituder över 1.200 meter. På en del håll ersätter den gråsparven som "byfågel", dvs leva i närheten av mänskliga bosättningar. Annars förekommer den i en varietet av biotoper, våtmarker, öppen skog, savann eller buskiga gräsmarker. Namnet har den fått efter William Swainson, brittisk 1800-talszoolog som studerat och beskrivit ett antal fågelarter. Som sina nära släktingar är Swainsonsparven fröätare, men kompletterar dieten med en del insekter. Boet byggs av gräs och fjädrar och placeras varhelst det finns en duglig plattform, en grenklyka, ett hål i en husvägg eller ett gammalt svalbo. Den lägger 3-6- vita ägg med bruna och grå fläckar. Utanför häckningstiden, som inträffar under vår sommar, samlas swainsonsparvar ofta i stora flockar som blir till ett hot mot jordbruk eller trädgårdsskötsel. Den här sparvfinken fotograferades vid ett vattenhål i Langano där den släckte törsten.