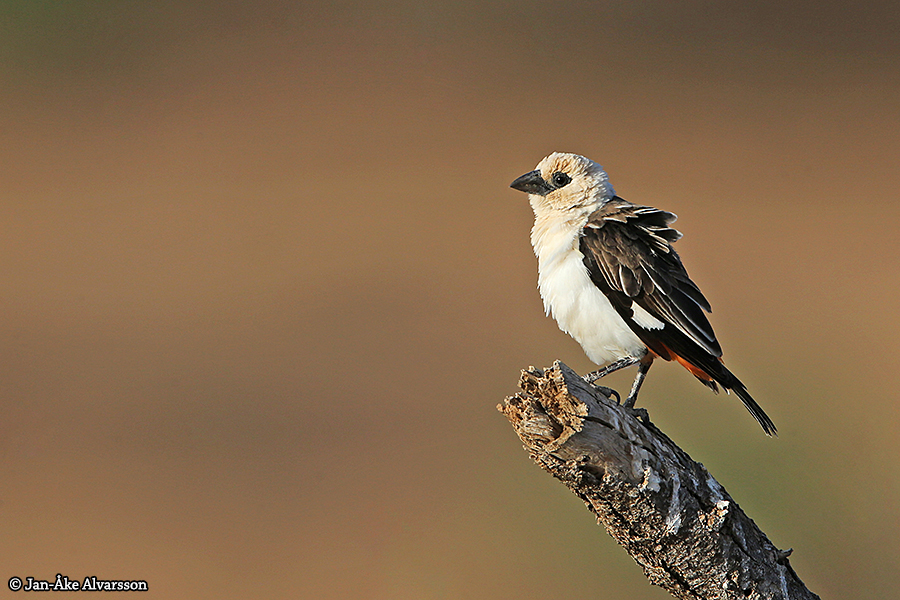 Dinemellia dinemelli
White-headed buffalo-weaver / Vithuvad buffelvävare
This White-headed buffalo-weaver was photographed in the late afternoon, in a soft, evening light. Usually, the buffalo weaver spends a lot of time on the ground to look for food in small flocks. It has received its name because its head is white - unlike other weavers; because it often follows the African buffalo, feeding on disturbed insects; and because it weaves a large, suspended nest. This species is an unusually big weaver (6.7-7.5 in) and while the male displays the red on its rump by spreading its wings while courting, and the female broods on the eggs, both sexes help to build the nest and take turns in raising the nestlings.
Denna vithuvade buffelvävare fotograferades i kvällningen, i ett mjukt aftonljus. Vanligtvis tillbringar den här buffelvävaren mycket tid på marken för att leta föda i små grupper. Namnet har den fått på grund av att dess huvud är vitt - till skillnad från andra vävares; på grund att den ofta följer efter den afrikanska buffeln och fångar insekter som skrämts upp av den; och på grund av den väver ett stort, hängande bo. Det är en ovanligt storvuxen vävare (17-19 cm) och även om det är hannen som står för uppvaktningen och honan tar hand om äggläggningen och ruvningen, så hjälps de båda könen åt - både att bygga boet och att föda upp ungarna.