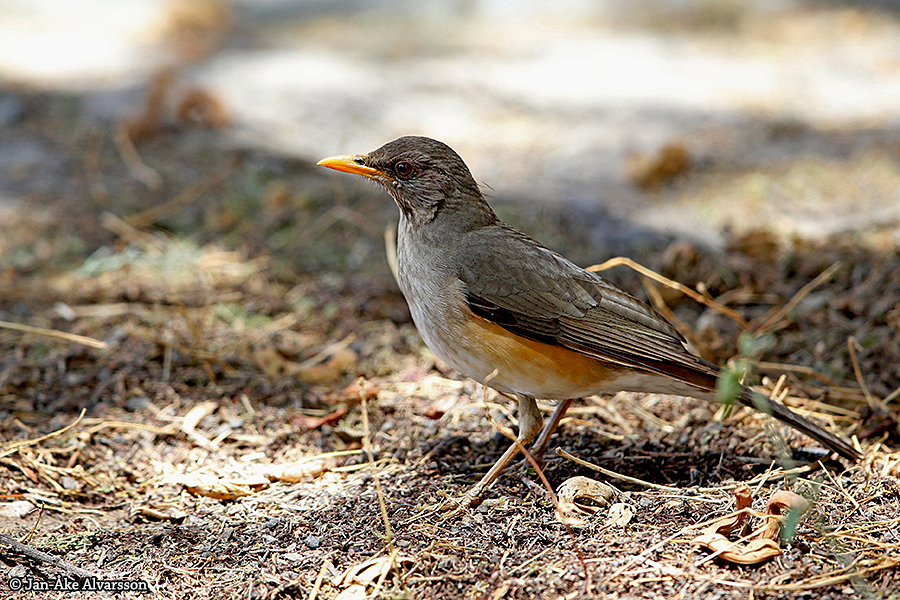 Turdus pelios
African thrush / Aftontrast
Just by a hedge, I saw something moving. I waited for the bird and saw that it was a thrush, an African thrush. It is a often shy thrush that grows up to 21-23 cm long, thus almost identical to our European Song thrush. It is distributed in a belt across Africa, from Senegal to the west, to Ethiopia to the east - with a couple of incursions southwards (on either side of the Congo rainforest). It occurs in several different biotopes but likes the prensence of water. It lives on seeds, fruits (e.g. figs) and berries and even has been seen to take small fish in shallow water. One specialty is that, like its relative the Song thrush, it is able to crack snails against a stone. It then uses a favorite stone as an "anvil" as it crushes the shell of the snail before pulling out the soft body ...
Invid en häck såg jag något röra sig. Jag väntade ut fågeln och såg att det var en trast, en aftontrast. Den är en ofta skygg trast som blir upp till 21-23 cm lång, därmed nästan identisk med vår egen taltrast som den f.ö. liknar i flera avseenden. Den är utbredd i ett bälte tvärs över Afrika, från Senegal i väster till Etiopien i öster - med ett par utvikningar söderut (på var sin sida om Kongos regnskogar). Den förekommer i flera olika biotoper men tycker mycket om vattenbryn. Den lever på frön, frukter (t.ex. fikon) och bär och har t.o.m. setts ta små fiskar i grunt vatten. En specialitet är att den, liksom släktingen taltrast, kan knäcka snäckor mot en sten. Den använder då en favoritsten som "städ" som den krossar snäckan mot innan den drar ut den mjuka kroppen...