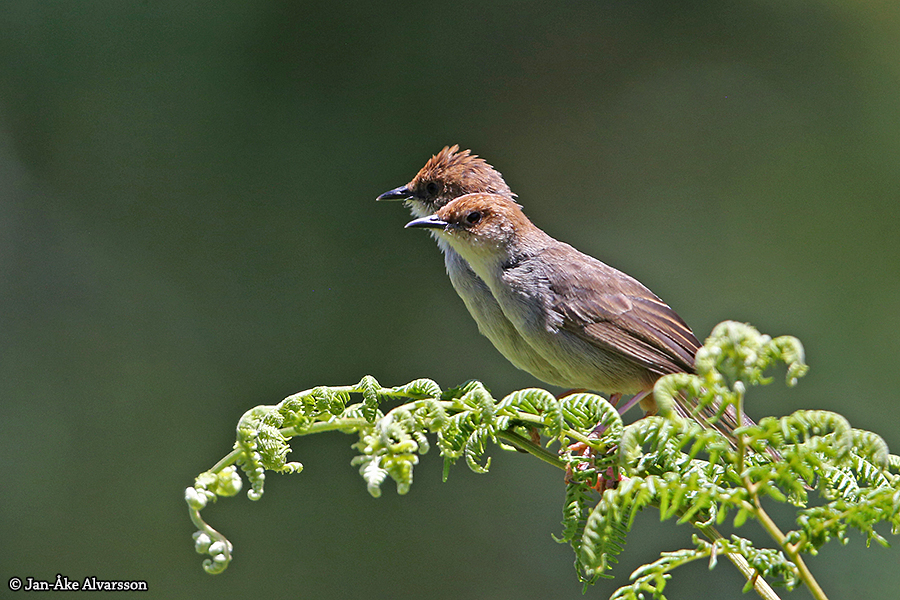 Cisticola hunteri
Hunter's cisticola / Kilimanjarocistikola
These Hunter's cisticolas, male and female, perch together on a bracken on Mount Kenya. They have just performed a duet, something specific for this species. Duet singing, i.e. that the two combine their songs into a common performance, is one of the most complex vocal behaviors we know in the animal world. (It has been throughly studied among e.g. certain species of wrens). This pehonmenon results in the fact that the listener experiences the two birds' songs as one, something that really cannot be separated. It is perceived as a single entity, but performed by a couple, often during breeding time. The Hunter's cisticola lives in highland biotopes, at an altitude of 1,550-4,400 m, in an area that includes parts of sothern Kenya and norhern Tanzania. It is a typical insectivore and the diet consists of e.g. beetles, grasshoppers, mantis, moths and butterflies.
De här två kilimanjarocistikolorna sitter tillsammans i en ormbunke på Mount Kenya. De har just framfört en duett, något specifikt för denna art. Duettsång, att de två kombinerar sina läten till ett gemensamt framförande, är ett av de mest komplexa vokala beteenden vi känner till inom djurvärlden. (Det är väl studerat bl.a. hos vissa gärdsmygsarter). Det innebär att åhöraren upplever de två fåglarnas sång egentligen inte kan skiljas åt. Det är en och samma, men levererad av ett par, ofta under häckningstid. Kilimanjarocistikolan lever i höglandsbiotoper, på 1.550-4.400 m höjd, i ett område som omfattar delar av Kenya och Tanzania. Den är en typisk insektsätare där dieten bl.a. består av skalbaggar, gräshoppor, bönsyrsor, nattfjärilar och fjärilar.