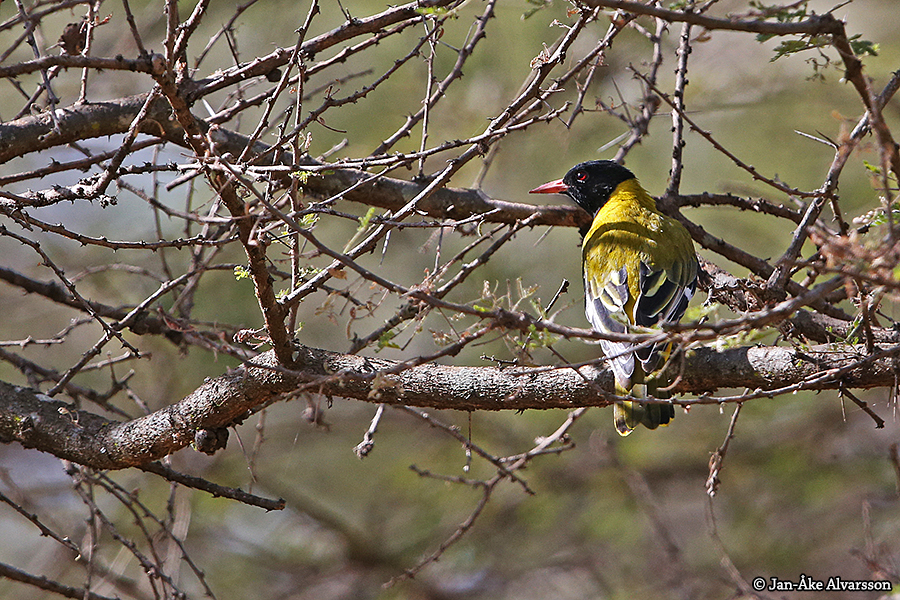 Oriolus larvatus
Black-headed oriole / Svarthuvad gylling
This Black-headed oriole is, of course, closely related to the Euroasian Golden Oriole. Like that species, the body color of the Black-headed oriole is intense yellow, with a greenish touch on the back (much like a female of the Golden oriole). Unlike the Golden oriole, however, the Black-headed oriole, has, as the name suggests, a black head, which frames the stark red eye in a powerful way. The bill is red. The diet consists of fruits and berries of various kinds.
Den här svarthuvade gyllingen är förstås nära släkt med den euroasiatiska, och i Sverige ganska sällsynta, sommargyllingen. Liksom denna är kroppsfärgen klart gul, med en grönaktig anstrykning på ryggen (ungefär som en hona av sommargylling). Till skillnad från sommargyllingen är dock den svarthuvade gyllingen, som namnet antyder svart på hela huvudet vilket ger det röda ögat en kraftfull inramning. Näbben är röd. Dieten består av frukter och bär av olika slag.