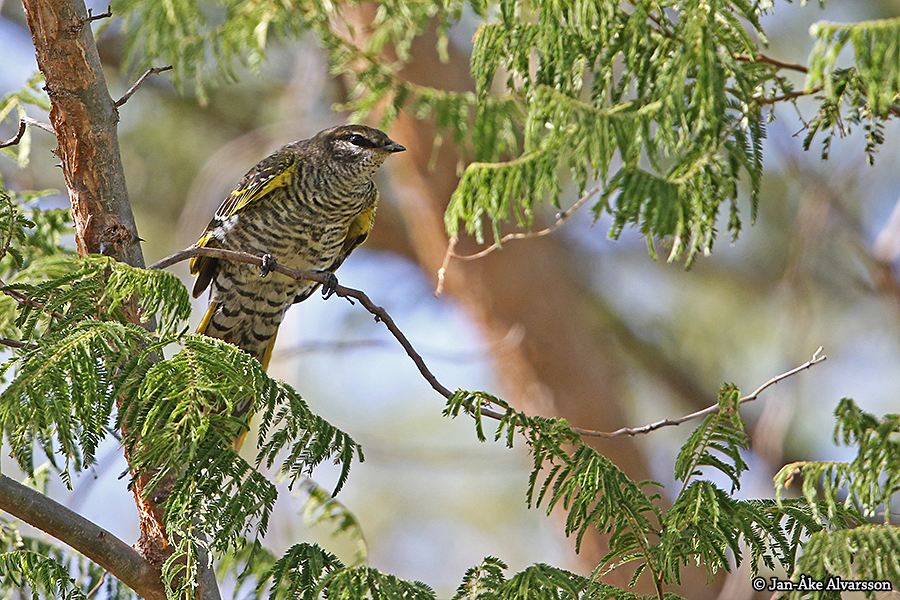 Campephaga flava
Black cuckoo-shrike / Svart nålfågel
The Black cuckoo-shrike has gotten its name from the male's plumage. The male is completely black with a dark bill and a patche of yellow cere just beside the bill. The female, on the other hand, has, as in this picture, an almost cuckoo-like appearance with distinct watering on the throat and chest and bright yellow elements in the plumage. The food consists of butterflies and moths, and especially their larvae, as well as flying termites and other insects.
Den svarta nålfågeln har fått sitt namn av hanens fjäderdräkt. Hannen är nämligen helsvart med mörk näbb och gul vaxhud vid näbbroten. Honan däremot, har, som på bilden, ett nästan göklikt utseende med tydlig vattring på hals och bröst och klart gula inslag i fjäderdräkten. Födan består av fjärilar och nattfjärilar, och särskilt då deras larver, liksom flygtermiter och andra insekter.