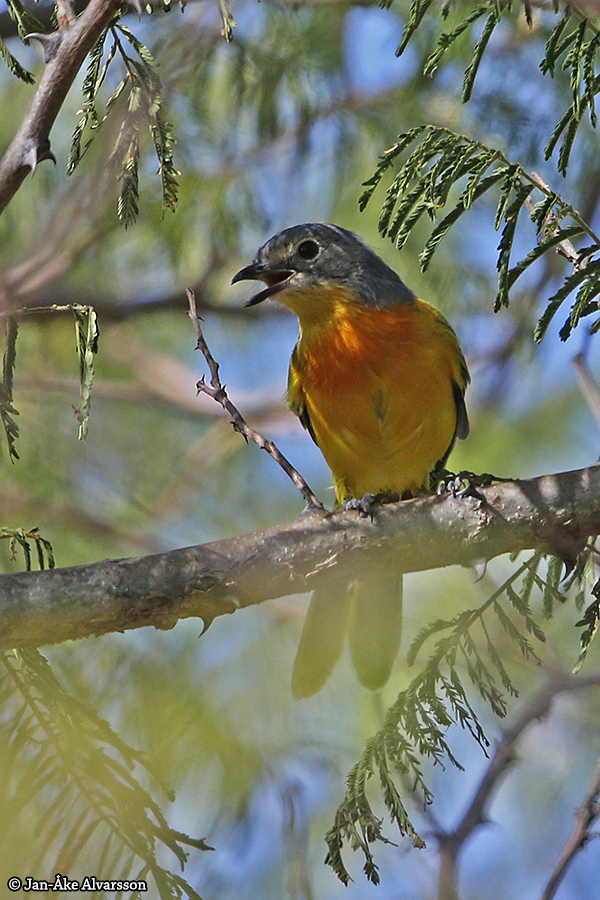 Telophorus sulfureopectus
Sulphur-breasted bushshrike / Orangebröstad busktörnskata
Portrait of a Sulphur-breasted bushshrike that suddenly appeared. It perched a few seconds just in front of me, then disappeared again. This insectivore is found on savannas and in dry forests in large parts of sub-Saharan Africa, mainly in central South Africa and in a band across West Africa. The diet is varied: bees, wasps, larvae, beetles, mantis, and more.
Porträtt av en orangebröstad busktörnskata som plötsligt dök upp. Den satt häpen några sekunder framför mig, sedan försvann den igen. Denna insektsätare förekommer på savvann och i torrskog i stora delar av Afrika söder om Sahara, främst i centrala södra Afrika och i ett band tvärs över Västafrika. Dieten är varierad: bin, getingar, larver, skalbaggar, bönsyrsor, med mera.