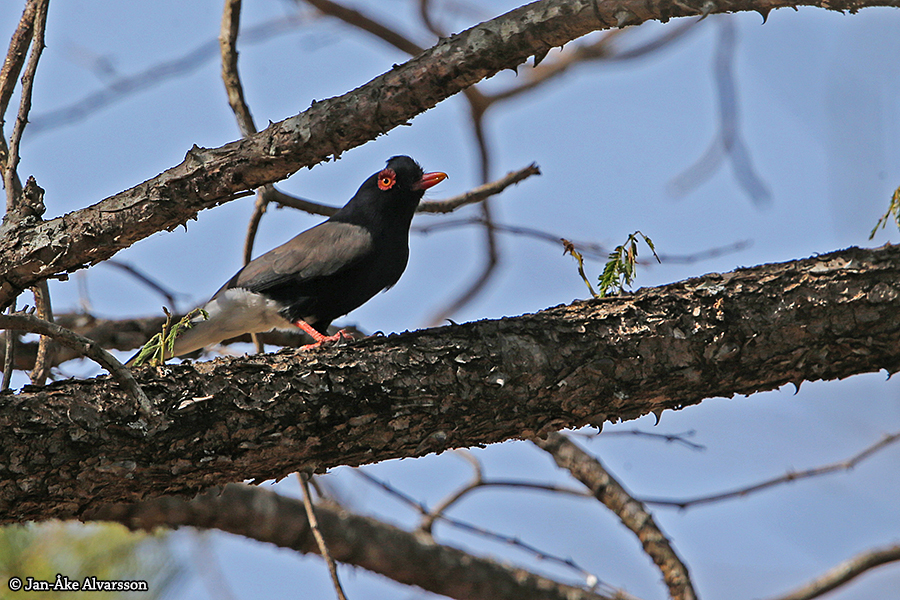 Prionops retzii
Retz's [Red-billed] helmetshrike / Svart hjälmtörnskata
This is a remarkable African bird! As the picture shows, it is a mainly black bird with a marked white rump. Legs, bill and eye ring diverge markedly with a stark red color. The eye ring is also transformed into a ring that is strongly reminiscent of a price rosette for dogs or horses ... This species is quite widespread in sub-Saharan Africa, but this is in fact its northernmost distribution area. It mainly subsits on insects.
Detta är en märklig afrikansk fågel! Som synes på bilden är det en huvudsakligen svart fågel med en markerad vit undergump. Ben, näbb och ögonring avviker kraftigt med en starkt röd färg. Ögonringen är dessutom förvandlad till en krans som starkt påminner om en prisrosett för hundar eller hästar... Arten är ganska spridd i Afrika söder om Sahara, men detta är dess nordligaste utbredningsområde. Huvudfödan är insekter.