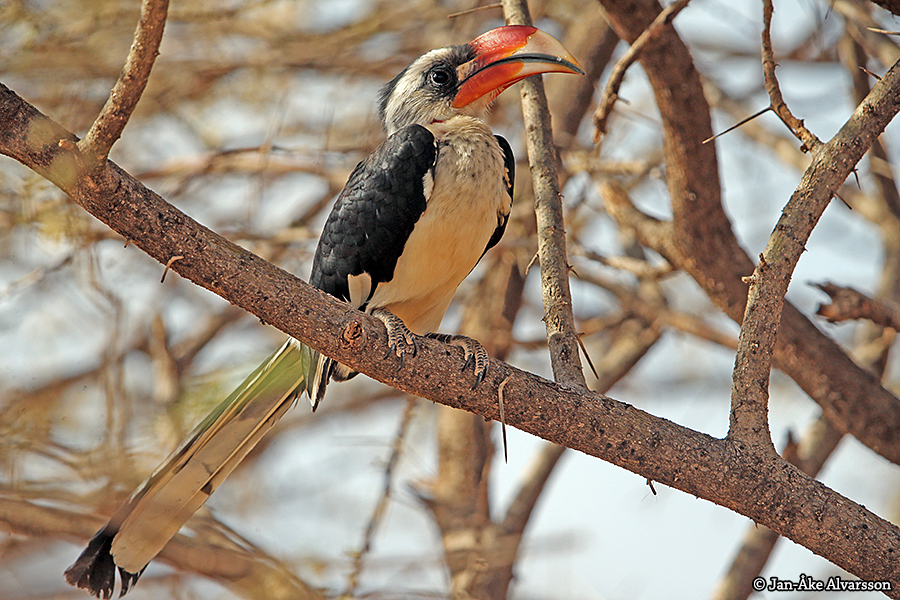 Tockus deckeni
Von der Decken's hornbill / Savanntoko
This is a male of Von der Decken's hornbill. Since we here have case are of sexual dimorphism (male and female are different), we immediately see that this is a male because of the red beak. The female has a black beak. The Von der Decken's hornbill is an entirely East African bird; it does not occur anywhere else. It features the particular habit of shutting up the female while brooding by building a clay wall in the tree cavity, with a hole that is only so big that the male can feed the female. This is going on during incubation and hatching; until the nestlings are so big that there is no longer room for the family. Then the female breaks the wall, goes out into the open and helps the male to feed the now big kids.
Det här är en hane av savanntoko, en av näshornsfåglarna. Eftersom vi har att göra med sexuell dimorfism (att hanne och hona är olika) ser vi direkt att detta är en hanne på grund av den röda näbben. Honan har nämligen en svart näbb. Savanntokon är en helt östafrikansk; den förekommer inte någon annanstans. Savanntockon har den speciella vanan att stänga inne honan med äggen i trädhålan, genom att bygga en lervägg, med ett hål som bara är så stort att hannen kan mata honan. Detta pågår under ruvning och kläckning; fram tills att ungarna är så stora att familjen inte längre ryms i boet. Då bryter honan sönder väggen, tar sig ut i det fria och hjälper hannen att mata de nu stora ungarna.