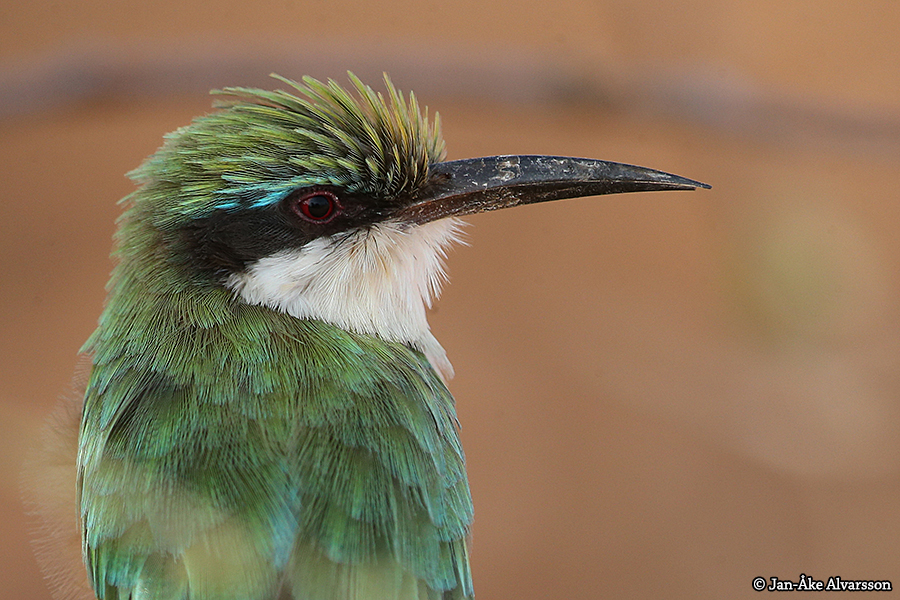 Merops revoilii
Somali bee-eater / Somaliabiätare
One of the birds I really wanted to see in Samburu was the Somali bee-eater. This species, as the name suggests, is common in Somalia, occurring in eastern Ethiopia but occasionally in Kenya as well, including in the Samburu. We traveled in the park for two days without a glimpse of it. But on the second day's night, my guide shouted: A Somali bee-eater! I was worried about the fact that the light was fading, but we got pretty close with the jeep and I got a portrait of this, the next smallest (16-18 cm, 6.3-7.1 in) and for me until now unknown bee-eater. It deviates somewhat from most bee-eaters by the fact that the plumage on the head is often spiky, and that it is more solitary than others. It e.g. does not build its nest in colonies but each couple chooses their own location for breeding.
En av de fåglar jag gärna ville se i Samburu var somaliabiätaren. Denna art är, som namnet antyder, vanlig i Somalia, förekommande i östra Etiopien men sporadiskt också här och var i Kenya, bland annat just i Samburu. Det gick två dagar utan en skymt av den. Men på andra dagens kväll ropade min guide till: En somaliabiätare! Jag var bekymrad för att ljuset höll på att försvinna, men vi kom ganska nära med jeepen och jag fick ett porträtt av denna, den näst minsta (16-18 cm) och för mig dittills okända biätare. Den avviker något från de flesta biätare genom att huvudfjädrarna ofta är resta och att den är mera solitär än andra. Den bygger t.ex. inte bo i kolonier utan varje par väljer en egen plats att häcka på.