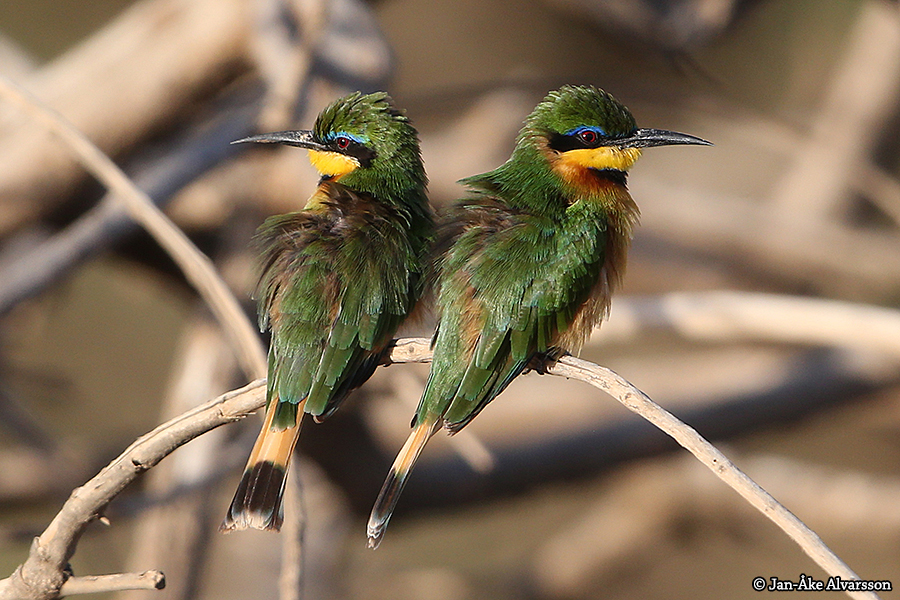 Merops pusillus
Little bee-eater / Dvärgbiätare
A pair of Little bee-eaters on a low branch in Samburu. The species is the smallest bee-eater (15–17 cm), but one of the most widely distributed. It occurs in almost all of sub-Saharan Africa, except in the southernmost part and in western Central Africa. As you can see, it is an unusually colorful bee-eater. It is also an unusually solitary one. It usually appears in pairs - but it does not breed in colonies like many other bee-eaters. The proximity to water seems to be crucial for its habitat, which otherwise is often dry forest or savanna.
Ett par dvärgbiätare på en låg gren i Samburu. Arten är den minsta biätaren (15–17 cm), men en av de mest spridda. Den förekommer i nästan hela Afrika söder om Sahara utom i sydligaste delen och i västra Centralafrika. Som synes är det en ovanligt färgrik biätare och dessutom ovanligt solitär. Den uppträder oftast i par - men den häckar inte i kolonier. Närheten till vatten tycks vara avgörande för dess habitat, som annars ofta är torrskog eller savann.