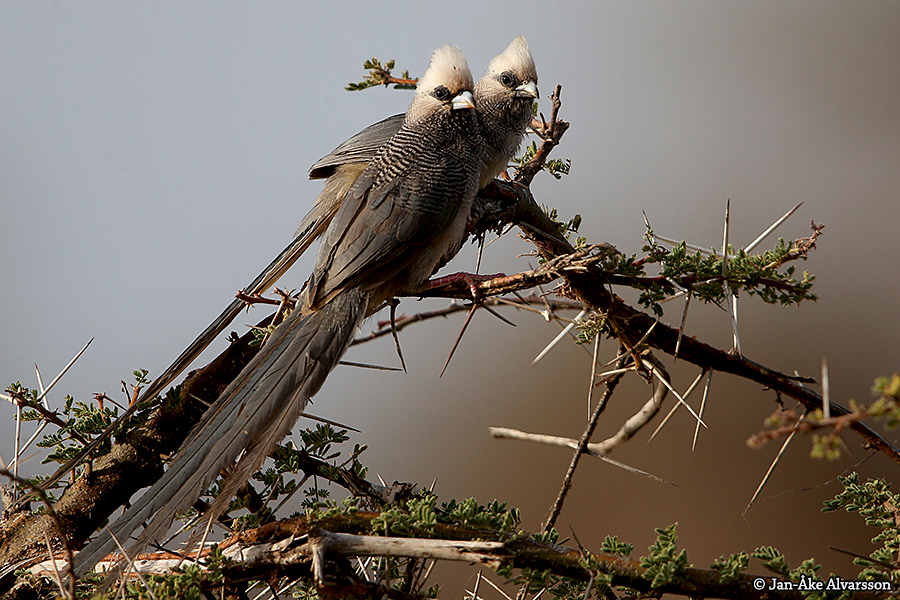 Colius leucocephalus
White-headed mousebird / Vithuvad musfågel
This is a typical mousebird, 29-32 cm long, of which the tail constitutes up to 20 cm, i.e. the major part of the length. It is gray-brown with creamy white head and crest - but with a characteristic, black, featherless patch around the eye. The bill is bluish white. It lives in shrub vegetation, often near watercourses, in large parts of East Africa. The diet is not fully known but probably consists of fruit, buds and flowers.
Detta är en typisk musfågel, 29-32 cm lång, varav stjärten utgör upp till 20 cm, dvs den största delen av längden. Den är gråbrun med gräddvitt huvud och tofs - men med en karaktäristisk, svart, fjäderlös fläck runt ögat. Näbben är blåvit. Den lever i buskvegetation, ofta nära vattendrag, i stora delar av Östafrika. Dieten är inte kartlagd men består förmodligen av frukt, knoppar och blommor.