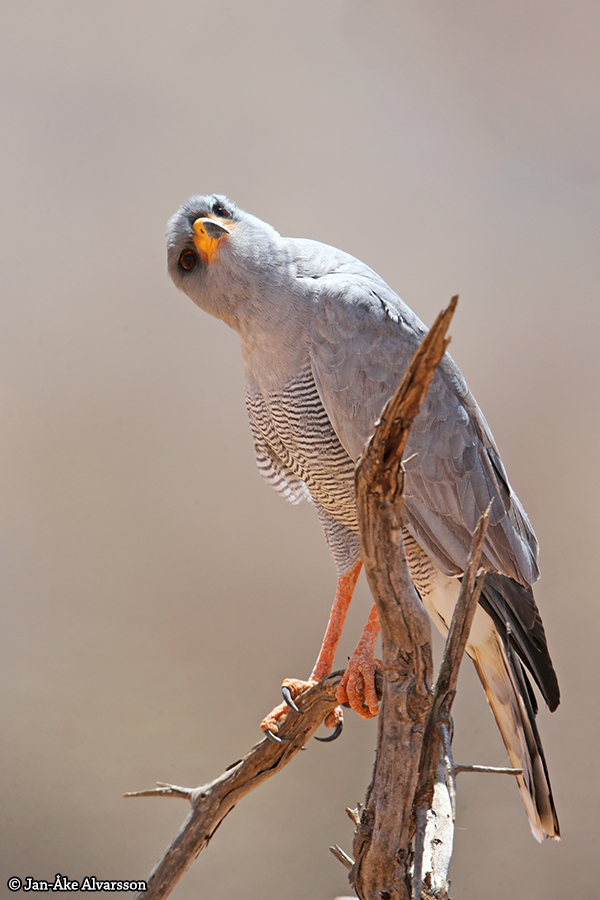 Melierax poliopterus
Eastern [Pale] [Somali] chanting goshawk / Östlig sånghök
This is a half-meter long, very characteristic bird of prey: it has long, orange-red bones, yellow-orange beak, intense, dark eyes, watered breast and white rump. It is widespread and not uncommon in East Africa and in the Horn of Africa. It is a solitary dry forest bird that subsits on lizards, snakes and smaller birds. This individual seemed unconcerned about our presence and apparently tried to spot something else, beyond us ...
Det här är en halvmeterstor, mycket karaktäristisk rovfågel: långa, orange-röda ben, gul-orange näbbrot, intensiva, mörka ögon, vattrat bröst och helvit undergump. Den är spridd och inte ovanlig i Östafrika och på Afrikas Horn. Det är en solitär torrskogsfågel som lever på ödlor, ormar och mindre fåglar. Den här individen tycktes obekymrad om vår närvaro och försökte tydligen spana in något annat, bortom oss...