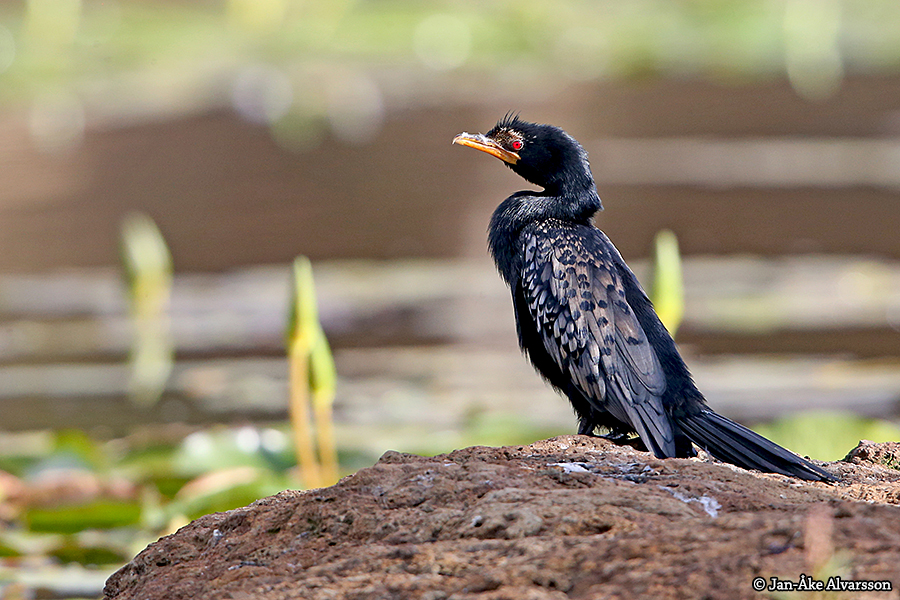 Phalacrocorax africanus
Reed [Long-tailed] cormorant / Långstjärtad skarv
This is a small, slim cormorant with a long tail. Thus one of its names is ' Long-tailed cormorant'; the other common name in English being 'Reed cormorant'. The plumage can vary a lot, but the wings are often, as in this picture, somewhat shiny, with darker spots. Its diet, like that of most cormorants, is mainly fish. It can obviously dive quite deeply, but it still prefers the type of small lakes that we can see in this picture. This Long-tailed cormorant rested on a stone next to the small lake after drying its wings in the typical cormorant way. This species is widespread across almost all of sub-Saharan Africa.
Det här är en liten skarv med lång stjärt, utbredd över nästan hela Afrika söder om Sahara. Fjäderdräkten kan variera en hel del, men vingarna är ofta, som här på bilden, något glänsande med mörkare prickar. Dess diet, som de flesta skarvars, är huvudsakligen fisk. Den kan uppenbarligen dyka ganska djupt, men den föredrar ändå den här typen av småsjöar. Den här långstjärtade skarven vilade sig på en sten intill den lilla sjön efter att ha torkat vingarna på typisk skarvmanér.