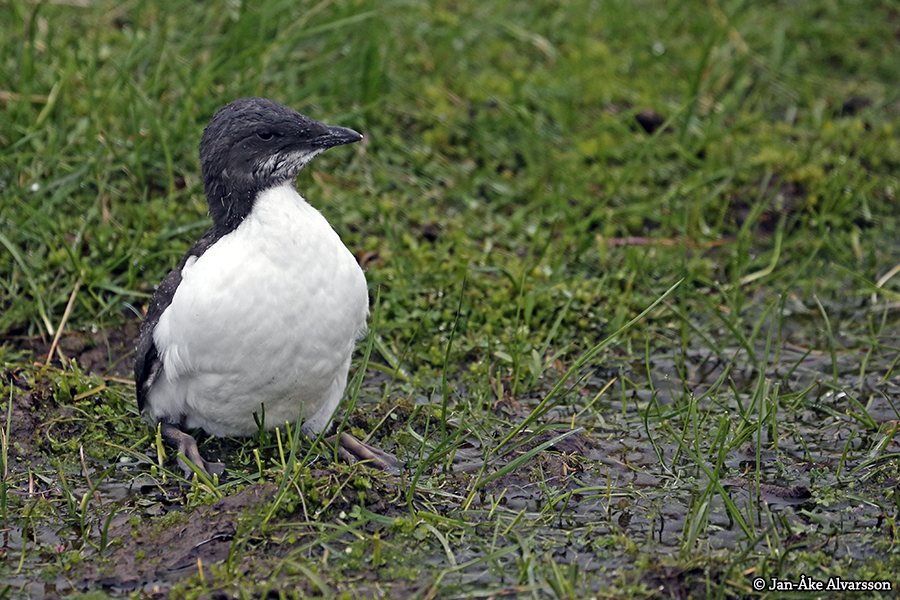 Uria lomvia
Thick-billed murre [Brünnich's guillemot] / Spetsbergsgrissla
This murre fledgeling had left the nest a bit too early and, above all, alone. The idea is that the juvenile murres should act as a collective, jump down from the steep cliff about at the same time and, together with supervising parents, get down to the water and the relative safety. This juvenile murre was far too lonely and was repeatedly attacked by aggressive Glaucous gulls. At the same time, we saw a Glaucous gull, at a distance, fly away with a young murre of the same size in the bill and then killing it against a rock. Although we tried to support and help this Young murre, unfortunately, its fate was quite predictable.
Den här ungen hade lämnat boet något för tidigt och framför allt ensam. Idén är att ungarna skall agera som ett kollektiv, hoppa ner för den branta klippan ungefär samtidigt och, tillsammans med övervakande föräldrar, ta sig ner till vattnet och den relativa säkerheten. Den här ungen var alldeles för ensam och blev gång på gång utsatt för de aggressiva vittrutarna. En bit bort såg vi en vittrut flyga iväg med en unge av samma storlek i näbben och sedan döda den mot en klippa. Fastän vi försökte stötta och hjälpa just den här ungen så var tyvärr dess öde ganska förutsägbart.