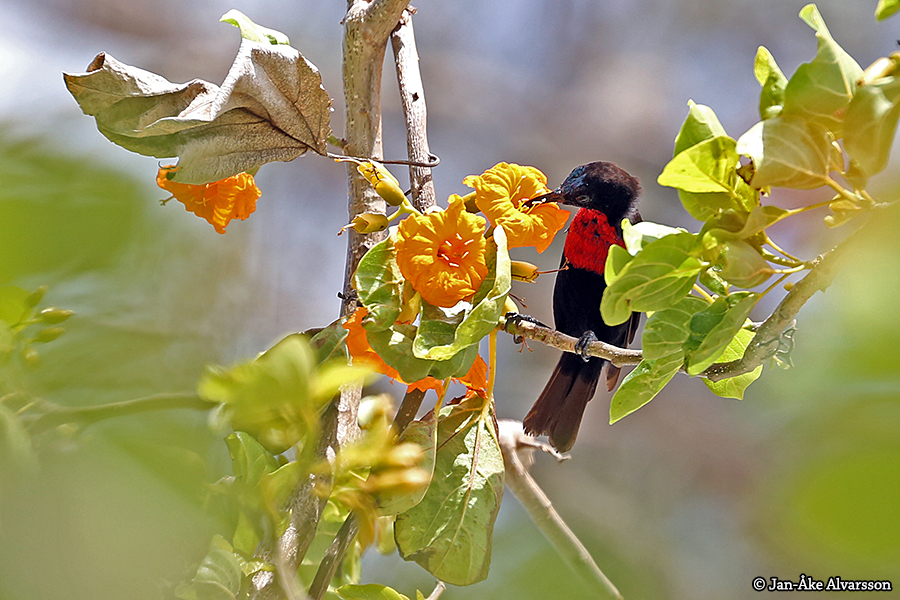 Chalcomitra senegalensis
Scarlet-chested sunbird / Karmosinbröstad solfågel
In this picture, the Scarlet-chested sunbird sucks nectar from the flowers of a tree with its specialized bill and tongue. The sunbirds are the African counterparts to the South American hummingbirds and they can in fact sometimes hover in front of a flower just like them - but mostly they cling to branches and flowers, as in this picture. Interestingly, the moustache and the spot on the forehead actually change color depending on the light. Here the head spot looks blue, but in the previous picture it was green...
Här suger den karmosinbröstad solfågeln nektar från trädets blommor med sin specialanpassade näbb och tunga. Solfåglarna är ju Afrikas motsvarigheter till Sydamerikas kolibrier och kan faktiskt ibland sväva (hovra) framför en blomma som dessa - men för det mesta klänger de på grenar och blommor, som på den här bilden. Intressant är att mustaschen och huvudfläcken på den karmosinbröstad solfågeln faktiskt ändrar färg beroende på ljuset. Här ser den blå ut, på förra bilden var den grön...