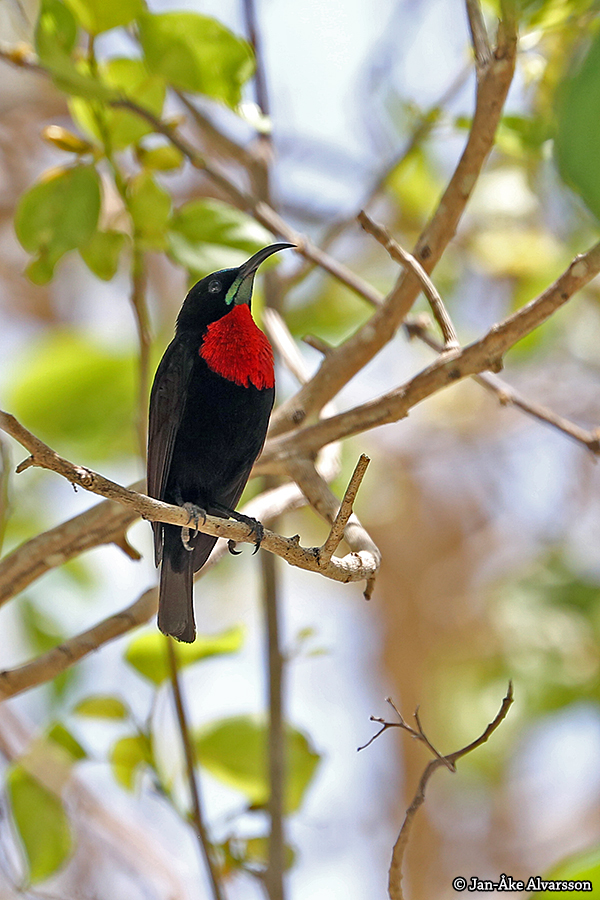 Chalcomitra senegalensis
Scarlet-chested sunbird / Karmosinbröstad solfågel
On the first day, in a flowering tree, just meters from my door, a male of Scarlet-chested sunbird. It reappeared periodically thereafter. The nectar of the yellow-orange flowers apparently was enticing. I spent quite a few hours on the "hunt" for the ultimate picture. But it proved extremely difficult. Sunbirds are mobile, they climb, jump, fly, and most images of the bird was obstructed by a branch or a twig. When I summed up a week of (sporadic) attempts, this was probably the picture which I was most pleased with.
I ett blommande träd, bara meter från min dörr, dök det första dagen upp en hanne av Karmosinbröstad solfågel. Den återkom därefter med jämna mellanrum. Nektaren i de gul-orangea blommorna var tydligen lockande. Jag tillbringade ganska många timmar på "jakt" efter den ultimata bilden. Men det visade sig extremt svårt. Solfåglar är rörliga, de klättrar, hoppar, flyger och på de flesta bilder var fågeln skymd av någon gren. När jag summerade en veckas (sporadiska) försök var det nog den här bilden som jag blev mest nöjd med.