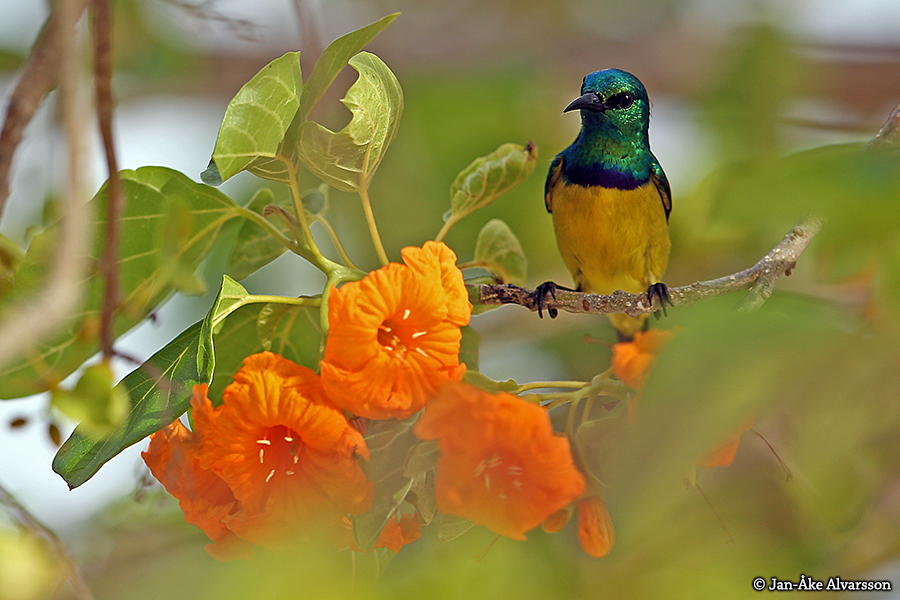 Hedydipna collaris
Collared sunbird / Halsbandssolfågel
I photographed Collared sunbird in Jozani Forest last year. But this time it appeared in Uroa, at close range, when I was waiting for the Scarlet-chested sunbird. The Collared sunbird is one of the smallest species of sunbirds, only 9-10 cm long. It is extremely quick in his movements and hard to catch in a photo. I took a series of pictures on its short visit to this tree, but I was convinced that all photos had failed - until I looked into my camera afterwards and saw this...
Jag fotograferade halsbandssolfågel i Jozani Forest förra året. Men den här gången dök den upp på nära håll när jag väntade på den karminbröstade solfågeln. Halsbandssolfågeln tillhör en av de minsta solfåglarna. Den är bara 9-10 cm lång, i storlek som en svensk gärdsmyg, och kvick i rörelserna. Jag tog en serie bilder på dess korta besök i trädet, men jag var övertygad att jag hade misslyckats med alla - tills jag i efterhand fick syn på den här...