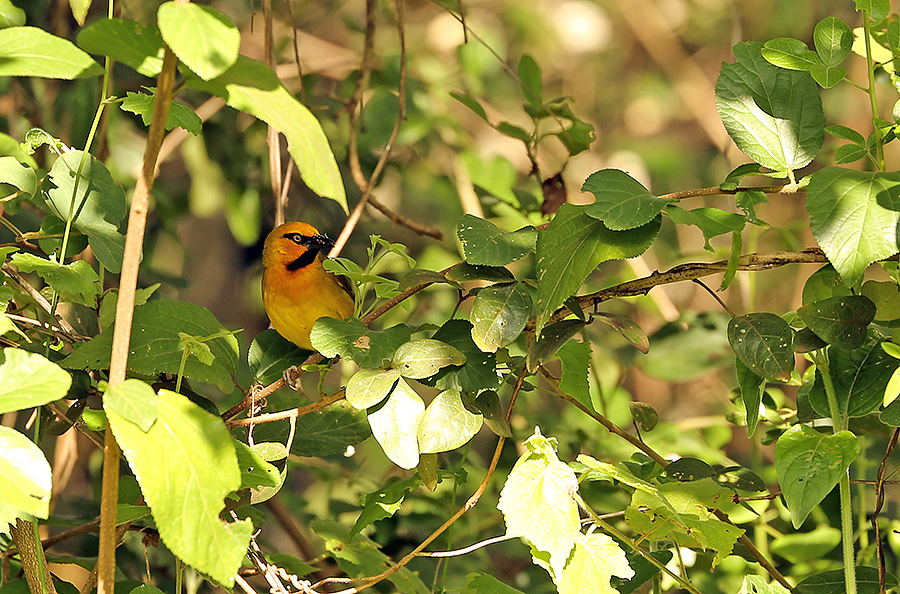 Ploceus ocularis
Spectacled weaver / Glasögonvävare
The Spectacled weaver is characterized by the black "glasses" or the black "Zorro mask" over the eyes. For once, this species retains this breeding plumage all year - and it is almost identical to the female and male, with one exception: the female lacks the male's black bib. The species is widespread in Africa, but occurs only in patches in most areas because the bird is picky in terms of habitat. Forest edges, bushes, river valleys and plains with occasional trees are its favorites. The species is probably monogamous and takes an unusually long time to weave its nest. This consists of an inner room with a tunnel entrance. Insects make up the main diet.
Glasögonvävaren karaktäriseras förstås av de svarta "glasögonen" eller den svarta "Zorro-masken" över ögonen. Ovanligt nog behåller den denna praktdräkt året om - och den är nästan identiskt lik mellan hona och hane, med ett undantag: honan saknar hanens svarta haklapp. Arten är vitt spridd i Afrika, men förekommer bara fläckvis i de flesta områden eftersom fågeln är kräsen vad gäller biotop. Skogskanter, buskvegetation, floddalar och savann med enstaka träd tillhör favoriterna. Arten är förmodligen monogam och tar ovanligt lång tid på sig för att väva sitt bo. Detta består av ett inre rum med en lång tunnelingång. Insekter utgör den huvudsakliga födan.