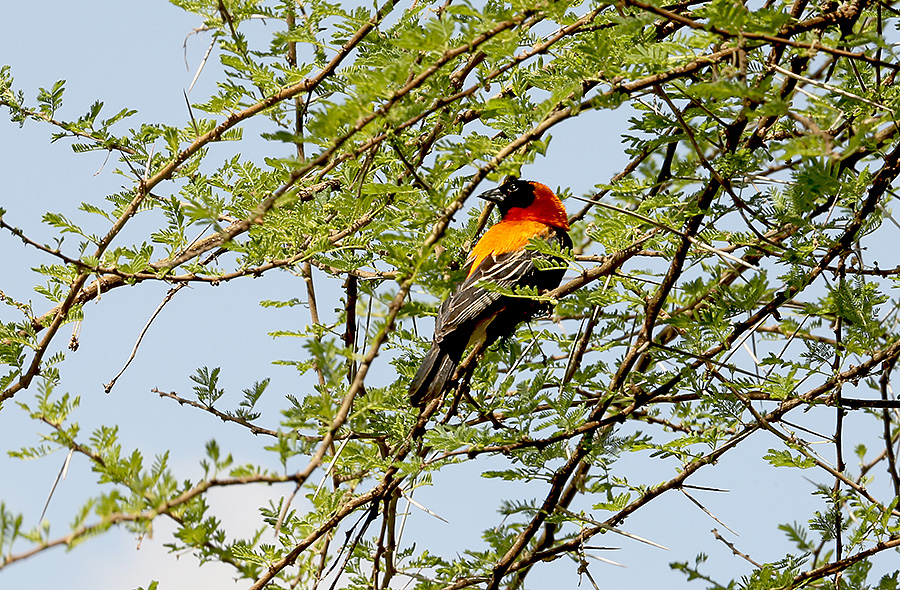 Euplectes gierowii
Black bishop / Orangekragad eldvävare
In English this bird is called "Black bishop" because it is mainly black and red (which Bishop robes often are). The nuance of the color, however, in some areas, tend to change more from red to orange. The species is widespread in grassland and bushland in sub-Saharan Africa, but unusually unsociable. A couple of interesting observations: The species' Latin name 'gierowii' derives from a Swedish man, once active in Angola, H. Gierow. And the bird's social behavior is an oddity. It is namely polyandrous, i.e. a female may live with more than one male.
På engelska kallas denna fågel för "svart biskop" eftersom den huvudsakligen är svart och röd (vilket biskopsdräkter ofta är). Den röda färgen övergår dock i vissa områden mera till orange. Arten är vitt spridd i gräs- och buskområden i Afrika söder om Sahara, men ovanligt osocial. Ett par intressanta observationer: Artens latinska namn 'gierowii' härrör från en svensk, en gång verksam i Angola, H. Gierow. Och fågelns sociala beteende tillhör ovanligheterna. Den är nämligen polyandrisk, dvs. en hona lever med fler än en hanne.