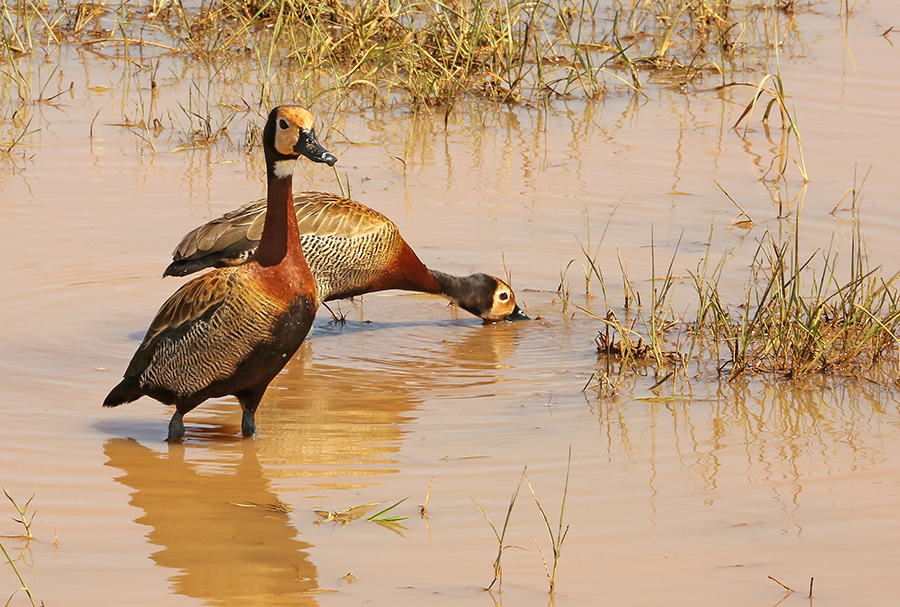 Dendrocygna viduata
White-faced whistling-duck / Vithuvad visseland
The White-faced whistling-duck is one of the species with a typical longitudinal extension, in the main in the Americas, south of Costa Rica, and in Africa, south of the Sahara. It is a nocturnal bird, in the daytime, therefore, it is seen sleeping or in a rigid, defensive position. This couple was a bit different as it foraged in the daytime. The whistling ducks are so named for their high-pitched whistling calls.
Den vithuvade visselanden är en av de arter som har en longitudinell utbredning, främst i Amerika söder om Costa Rica och i Afrika söder om Sahara. Arten är mest aktiv om natten och ses därför ståendes sovande eller i en avvaktande position om dagen. Det här paret var litet annorlunda eftersom en av dem födosökte om dagen. Fågeln har fått sitt namn efter sitt vissellika läte.