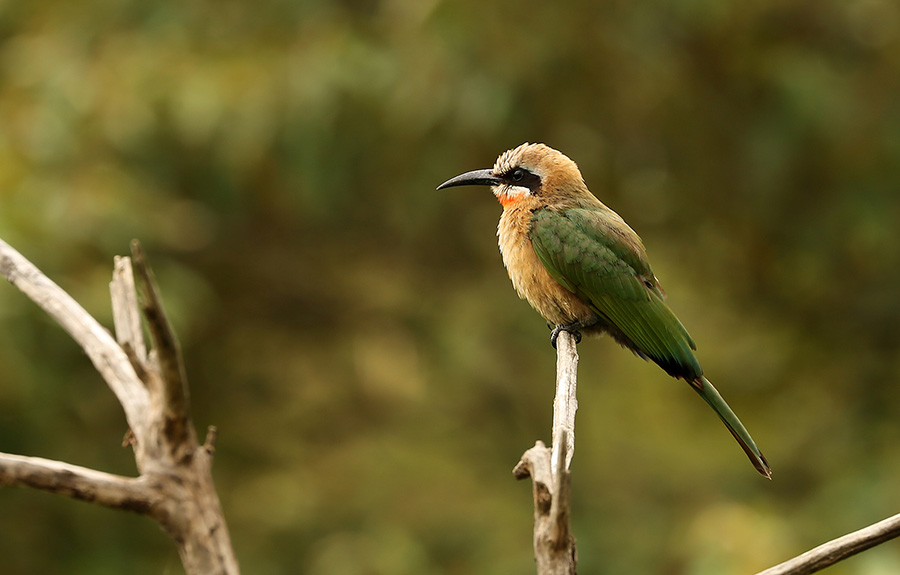 Merops bullockoides
White-fronted bee-eater / Vitpannad biätare
On our way down from the mountains in the Arusha NP, we passed a couple of White-fronted bee-eaters. One of them was perched fairly close to the roadside. We approached it slowly and it remained there, confidently. I could get o good series of pictures. This bird is identified by white stripes along its black eye-mask, in combination with a bright red throat. The species is well-known for two things. First, that it may be the prime example of social or "cooperative breeding". Many monogamous couples live in the same earthen bank, assisted by "helpers" that are genetically close relatives. Second, it is known for "raping". Lone, male bee-eaters may force themselves on females who are laying eggs.
På väg ner från det mest höglänta området i Arusha-parken, passerade vi ett par vitpannade biätare. En av dem satt ganska nära vägkanten och vi närmade oss sakta med bilen. Fågeln satt lugnt kvar och jag kunde ta en rejäl serie bilder. Arten känns igen på de vita fälten runt den svarta ögonmasken - i kombination med en ilsket röd haklapp. Arten är känd för två företeelser. Den utgör kanske det bästa exemplet på "social häckning" med många monogama par i en och samma jordbank och "assistenter" - nära släktingar till paret som hjälper till att föda upp ungarna. Dessutom förekommer det 'våldtäkt', dvs ensamma hannar som attackerar äggläggande honor och tvingar dem till parning.