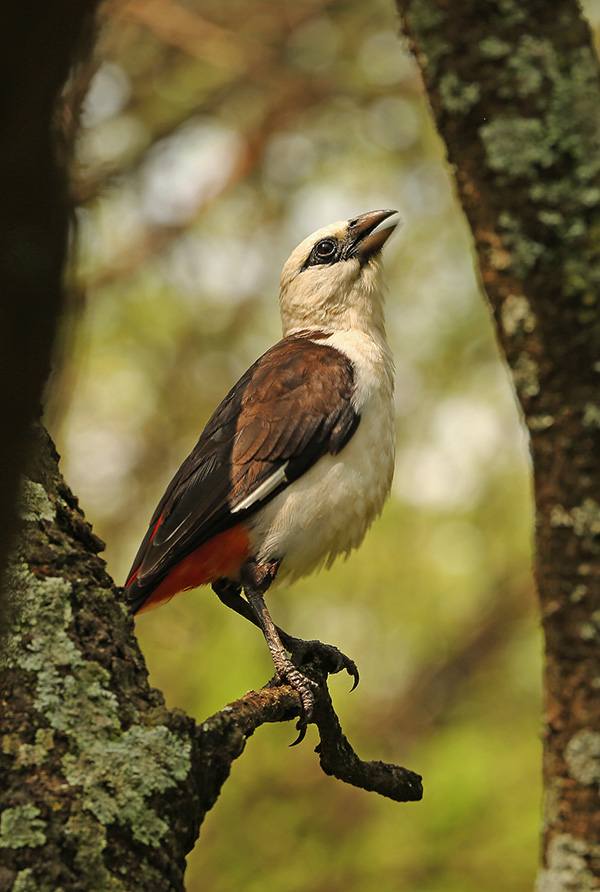 Dinemellia dinemelli
White-headed buffalo-weaver / Vithuvad buffelvävare
Many years ago now I was in Ethiopia and photographed a White-headed buffalo-weaver. It remained in my memory as a very special, and beautiful bird (but the picture was not that great). Therefore I wanted to get a better picture of it on this trip. On the first day in Taragire NP, I walked alone at our first resting-place. Suddenly a buffalo-weaver landed in the tree beside me. It had seen a caterpillar, and obviously that larva was more interesting than me. I took a number of pictures while it devoured the larva. When done, it suddenly saw me an uttered an alarm call. At the same time, I took this picture. That is why the lower part of the bill is blurred...
När jag var i Etiopien för många år sedan fastnade jag för den vithuvade buffelvävaren. Jag tyckte den var speciellt vacker. En av mina önskningar på den här resan var att få en bättre bild av denna fågel. Jag fick första chansen redan första dagen i Tarangire. Jag gick ensam vid vår första rastplats när denna buffelvävare plötsligt dök upp och satte sig nära mig. Den hade fått syn på en larv och var tydligen mera intresserad av den än av mig. Jag kunde därför ta några bilder medan den smaskade på larven. Först när den fått ner den fick den syn på mig och slog då larm - jag tog då den här bilden - och det är därför nedre näbbhalvan är oskarp...