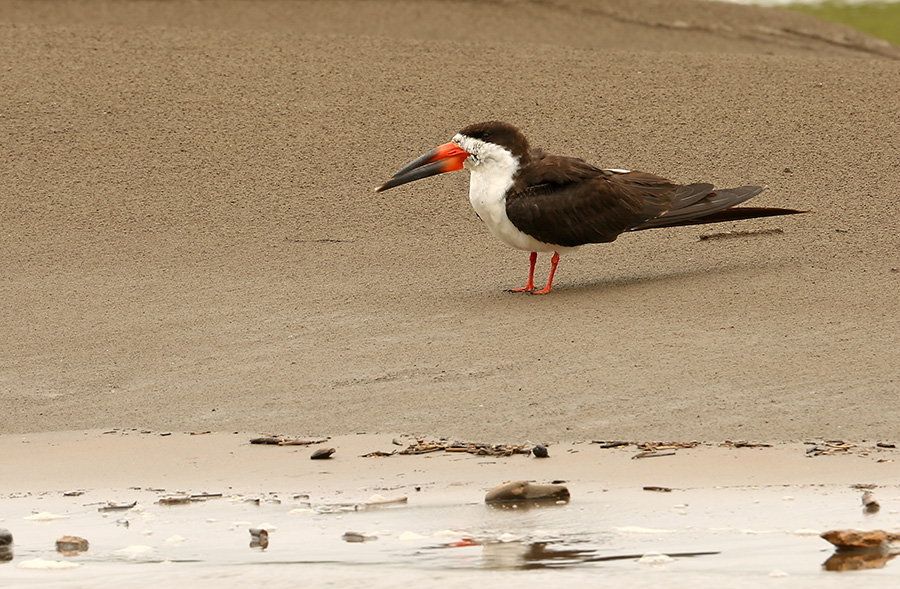 Rynchops niger
Black skimmer / Amerikansk saxnäbb
The skimmers look very much like a tern, but they have a prolonged lower bill that they use to "skim" the surafce of the water. When the lower bill encounters a fish, it closes the bill and catches the fish. Skimmers are unique in that they can contract the pupil like a cat, if exposed to strong light. In this picture, it is hard to detect the contracted eye of the skimmer, but it is there, just on the right hand side of the divide between white and blackish brown on the head.
Saxnäbbarna påminner om tärnor, men till skillnad från dessa är näbbens underdel längre än överdelen. När de fiskar flyger de strax ovanför vattenytan med undre näbbhalvan nedstucken under ytan och när den känner av en fisk knipsar de till med näbben. Saxnäbbarna har ett unikt drag för att vara fåglar, när de utsätts för starkt ljus kan de, precis som katter, dra ihop sina pupiller till en smal skåra. (På den här bilden får man nästan leta för att se det sammandragna ögat, men det sitter strax till höger om övergången från vitt till svartbrunt fält på huvudet).