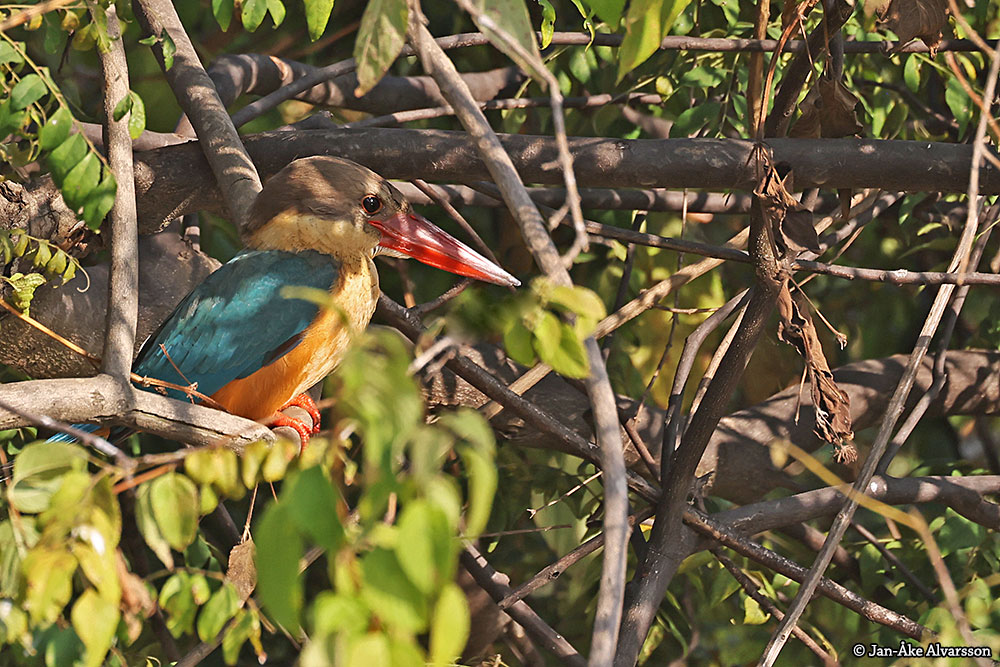 Pelargopsis capensis
Stork-billed kingfisher / Storknäbbskungsfiskare
Since I, like many other bird photographers, am fascinated by the Coraciiformes (kingfishers,bee-eaters, rollers and the like), one of my "target birds" in northern India was this Stork-billed Kingfisher. We spotted it in a bush near water in Corbett National Park. I knew its name, but when I saw it I was struck by the fact that the bill really looked like that of a (White) stork! We saw the species a few more times on the trip, but this first encounter was special. The Stork-billed kingfisher subsits mainly on fish, but also on crabs and other crustaceans. It sometimes supplements with frogs, lizards, rodents, insects and even nestlings.
Eftersom jag, som många andra fågelfotografer, är fascinerad av praktfåglar (Coraciiformes) så var en av mina "target birds" i norra Indien denna storknäbbskungsfiskare. Vi upptäckte den i ett buskage nära vatten i Corbett National Park. Jag kände ju till dess namn, men när jag fick syn på den slogs jag av att näbben verkligen såg ut som på en stork! Vi såg arten några gånger till på resan, men det här första mötet var speciellt. Storknäbbskungsfiskaren lever huvudsakligen på fisk, men också på krabbor och andra kräftdjur. Den kompletterar ibland med grodor, ödlor, gnagare, insekter och till och med fågelungar.