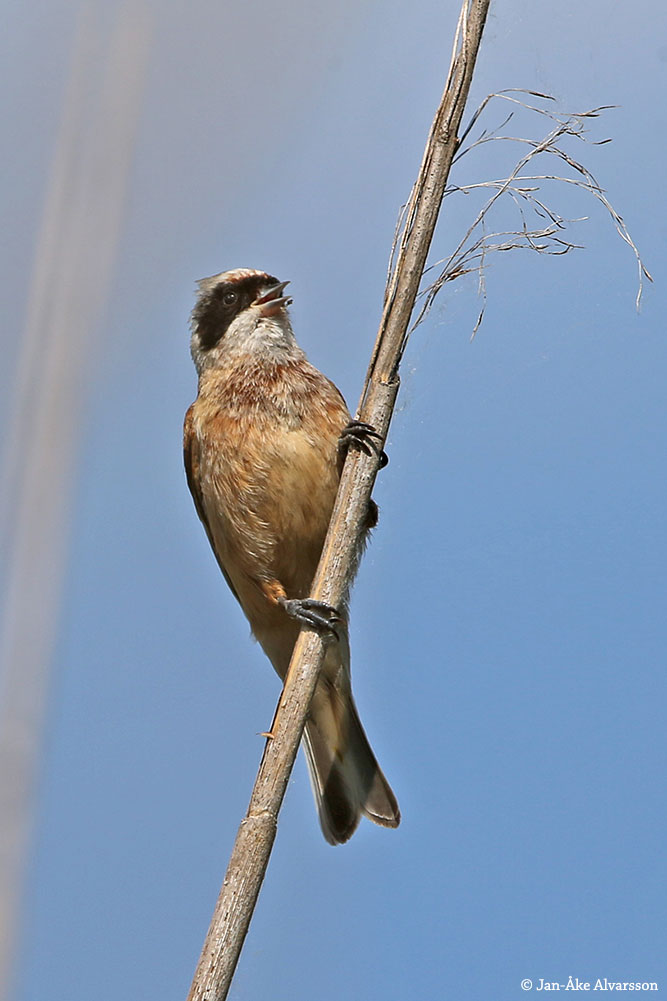 Remiz pendulinus
Eurasian penduline tit / Pungmes
A male Eurasian penduline tit near its nest. We can see that it is a male on the large, black face mask; the female has a smaller mask. The nest is usually around 25 cm high and has the shape of a hanging scrotum, which has given the species its trivial name from Latin 'pendulus' meaning "pendant" or "hanging down". The nest is preferably located, as in this case, in a deciduous tree near water. The species is evaluated as Least Concern globally - but in Sweden it is considered highly threatened. Only 40 breeding individuals remain in the country. In Hungary it is relatively common.
En pungmeshanne i närheten av sitt bo. Att det är en hanne syns på den stora, svarta masken; honan har en mindre mask. Boet är vanligtvis runt 25 cm högt och har formen av en pung vilket gett arten dess trivialnamn. Det placeras, som här, i ett lövträd nära vatten. Arten anses vara livskraftig globalt - men i Sverige är den starkt hotad. Den etablerade sig i Skåne på 1970-talet och spred sig snabbt norrut men har sedan gått tillbaka. Vissa uppskattningar anser att det bara finns ett 40-tal häckande individer kvar i Sverige.