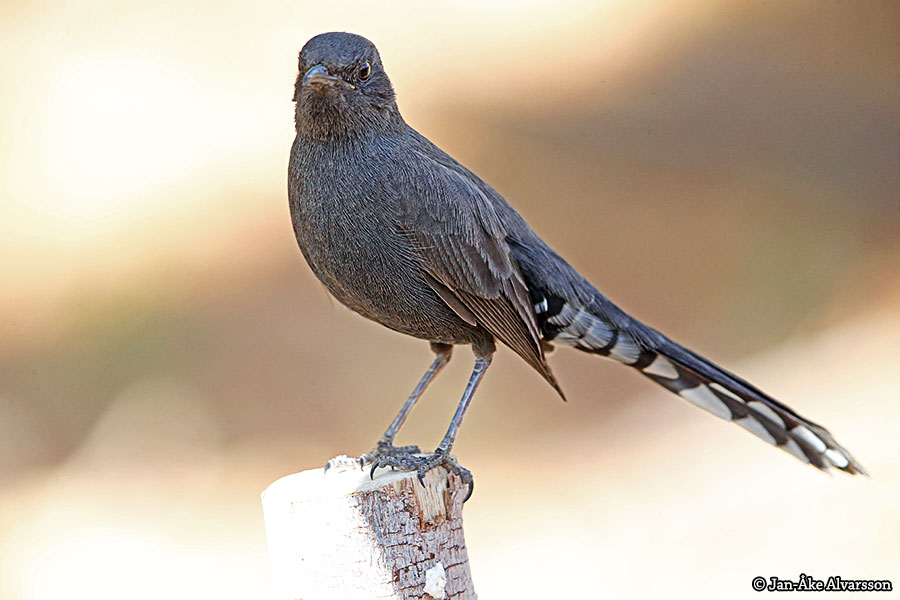 Cercotrichas podobe
Black scrub robin / Svart trädnäktergal
This species, the Black scrub robin, was first observed in Israel as late as in 1981 and the first breeding was not confirmed until 1994. Now it is a character bird in many kibbutzim in southern Israel and moves confidently in parks and other humane environments. It is large for being a flycatcher (20-23 cm), compared to e.g. the Spotted flycatcher (Muscicapa striata) (13.5-15 cm), and it is more often more gray with brown elements than the "carbon black" color that its plumage is often described as. (Also in this picture you can discern the black and white underside of the tail).
Den här arten, svart trädnäktergal, observerades för första gången i Israel så sent som 1981 och den första häckningen konfirmerades först 1994. Nu är den en karaktärsfågel i många kibbutzer i södra Israel och rör sig obrydd i parker och andra människonära miljöer. Den är stor för att vara en flugsnappare (20-23 cm) jämfört med t.ex. den gråa flugsnapparen (Muscicapa striata) (13,5-15 cm) och den är oftare mera grå med bruna inslag än den "kolsvarta" färg den ofta tillvitas. (Även på den här bilden kan man skönja den svartvita undersidan på stjärten).