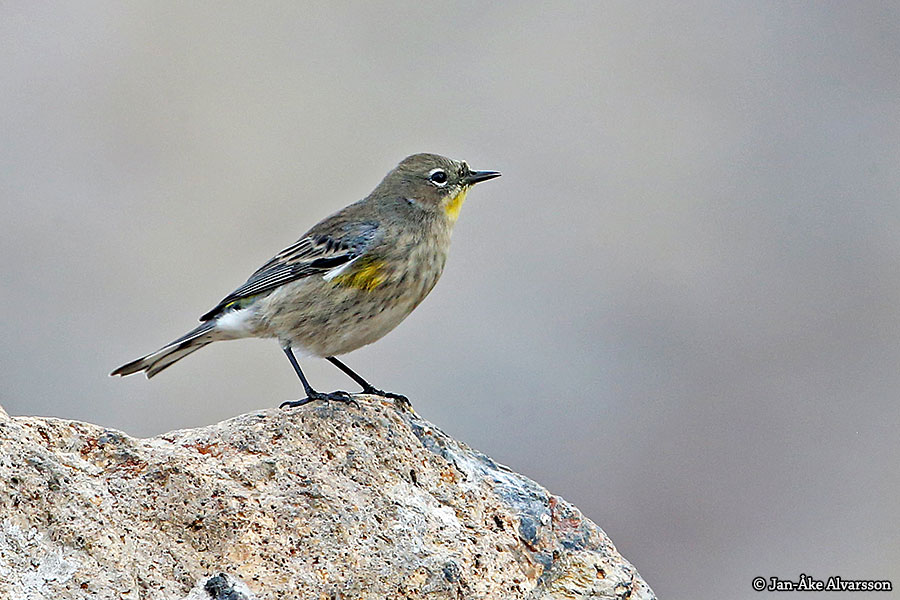 Setophaga coronata
Yellow-rumped warbler / Gulgumpad skogssångare
Of the passerines we observed in southern California, the yellow-rumped warbler was one of the most common. This is because this relatively common bird in North America, which nests in the north, spends the winters in a limited area along the Pacific coast. This, of course, leads to a substantial accumulation of birds, including California. The classification of the species is very tricky. In some cases, there is talk of four closely related species, sometimes of two main "groups": 'Audubon' and 'Myrtle'. Since the former group is characterized by a yellow throat, according to that division, this specimen on the Island of Santa Cruz would be an "Audubon's warbler". The ornithologists we worked with in California, however, only used the official, inclusive designation, so then I follow this one as well.
Av de tättingar vi observerade var den gulgumpade skogssångaren en av de vanligaste. Det beror på att denna relativt vanliga fågel i Nordamerika, som häckar i norr, övervintrar på ett begränsat område längs Stillahavskusten. Detta leder förstås till en rejäl anhopning av fåglar, bland annat i södra Kalifornien. Klassifikationen av arten (eller arterna) är mycket knepig. Det talas i vissa fall om fyra närbesläktade arter, ibland om två huvudsakliga "grupper": 'Audubon' (Audubonskogssångare på svenska) och 'Myrtle' (Myrtenskogssångare på svenska). Eftersom de förra karaktäriseras av gul haklapp så skulle detta exemplar på ön Santa Cruz enligt den uppdelningen vara en audubonskogssångare. Ornitologerna vi jobbade med i Kalifornien använde dock bara den officiella, inklusiva beteckningen, så då följer jag den här också.